Micro follicular unit extraction (FUE) hair transplant in Turkey is an exciting hair transplant technique that opens the way for much more successful and satisfying hair transplant results. Many people who have different hair histories are interested in improving the appearance of their hair through hair transplant procedures. Micro FUE in Turkey is one of the methods that everyone is interested in for their hair treatment. This technique involves the use of a micro motor for hair graft extraction to achieve the most precise application.
What are the benefits of the Micro FUE method?
The micro FUE method has become one of the most commonly preferred hair transplant methods by hair clinics, surgeons, and patients. You might be wondering what makes the micro FUE method an attractive option for both surgeons and patients. Here are a few benefits of the micro FUE method:
High number of grafts can be extracted
Because the micro FUE procedure is done by using a handpiece connected to a micro motor, it helps surgeons to be more precise with the extraction procedure. It is extremely important to not damage the hair follicles surrounding the donor graft, the micro motor and customizable handpiece allows for the extraction of a higher number of hair grafts.
Decreases the operation duration
This semi-automated system decreases the time spent on the extraction of hair grafts. In the traditional FUE method, surgeons are using a much slower technique that consequently increases the overall operation time. This is why the micro FUE method lets the surgeon execute the extraction faster.
Higher the success rate
The transplanted hair graft might not settle in successfully and the donor area might get damaged. Thanks to adjustable rotation speed and direction of the motor, micro FUE procedure increases the success rate of the hair transplant operation to achieve the superior results.
Lowers human error
The extraction process requires precision to achieve the best results. The automated micro-motor prevents human error involved in the extraction procedure thanks to its cosistent nature.
How does a Micro FUE hair transplant work?
Micro FUE hair transplant works by utilizing a micro motor and specialized hand pieces that can be used for different hair thicknesses and structures.
The motor speed and direction can be adjusted to achieve the best possible results. Your surgeon will decide the appropriate handpiece and motor speed for your hair and perform the hair extraction procedure using an optical microscope.
This way the hair grafts can be extracted from the donor area more quickly and in a more precise manner. The micro FUE technique ensures that the extracted hair graft is not damaged.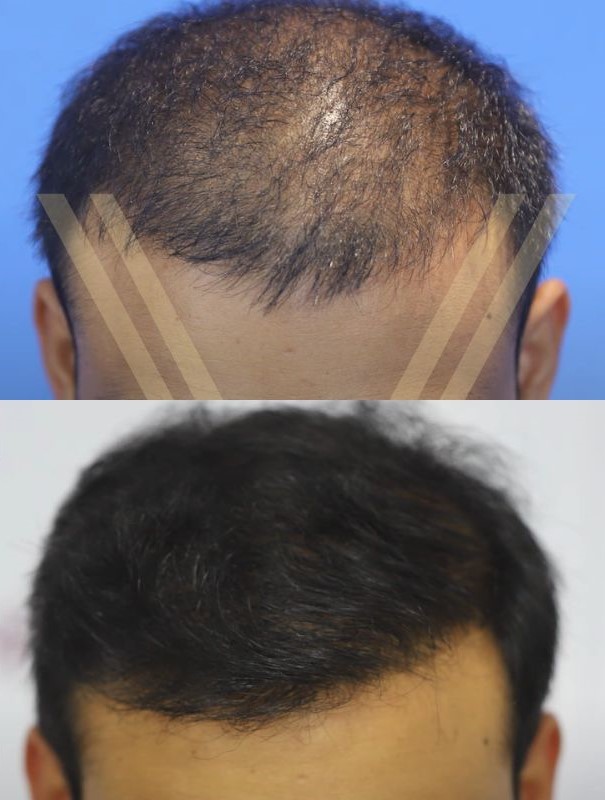 How much does a Micro FUE hair transplant cost in Turkey?
The cost of hair transplant procedures can put off a lot of people. If spending a lot of money to restore the look of your hair is not suitable for you, you can look for more affordable options. The micro FUE hair transplant cost in Turkey is much lower than in many other countries. You can choose to get your hair transplant procedure in Turkey to save some money on your micro FUE procedure. The cost of a micro FUE hair transplant in Turkey varies between $1,300 and $4,000.
What is the technical difference between FUE and Micro FUE methods?
Because various new hair transplant techniques have been developed over the years, it can be difficult to understand the differences between all the techniques for many people.
The technical difference between FUE and the micro FUE method is the method used for the extraction procedure.
In the FUE technique, a manual punch method is used where hair grafts are removed individually by a manual-punch tool controlled by hand. In the micro FUE technique, individual hair grafts are removed by using a micro motor and a handpiece attached to this motor. The micro FUE technique decreases the human effort involved in the process.
Can I get micro scalp pigmentation after a hair transplant?
Yes, you can get micro scalp pigmentation after a hair transplant. However, you will need to wait for the recovery period to be over so that the newly transplanted hair follicles do not get damaged. After the hair transplant procedure, the transplanted hair grafts need some time to settle in securely. After this period, you can get scalp micro pigmentation to achieve a denser hair look and cover up any possible scarring or hair transplant failure.
Which one is more suitable for me: Micro FUE vs DHI?
Choosing the most suitable hair transplant technique for your operation is important. The right technique for you will depend on the condition of your hair, the expertise of your surgeon, and your expectations.
The micro FUE technique is suitable for transplanting a higher number of hair grafts much more quickly. On the other hand, the DHI method might be suitable for you if you need fewer but denser grafts to be transplanted.
Do I need to shave my head for a Micro FUE hair transplant?
Usually, shaving the hair before a hair transplant procedure makes the process much easier. If you shave your hair, it is easier to get access to the hair follicles and perform a precise application. However, it might be possible to do a Micro FUE hair transplant without shaving your hair. Please consult with your surgeon whether you are suitable for such an operation.
Will Micro FUE leave a scar?
Scarring is one of the most concerning problems that patients are anxious about. However, sophisticated hair transplant techniques such as micro FUE usually leave minimal to zero scarring. A carefully performed micro FUE procedure will only leave no scarring.
How can I hide my Micro FUE hair transplant?
Most people want to keep getting a micro FUE hair transplant to themselves. If so, there are some things that you can do to hide your hair transplant. You can wear a cap or a wig until your hair grows out and you can see noticeable results, or you can get scalp micro pigmentation to cover any scarring that might be visible.
How long does it take for me to see the results?
To see the results of your micro FUE, you will have to wait for the transplanted hair follicles to go through a shock loss and recovery period. Usually, patients are able to see noticeable results 4-6 months after the procedure and the final results can be seen after approximately a year. Feel free to take a look into hair transplant growth timeline to see what future beholds for our patients!
Don't wait any longer, contact us today to schedule a consultation and take the first step towards a fuller head of hair with a younger look of yourself! You can either reach us on our contact form or click on the WhatsApp icon above for instant communication. Our team of experts will be more than happy to answer any questions you may have!