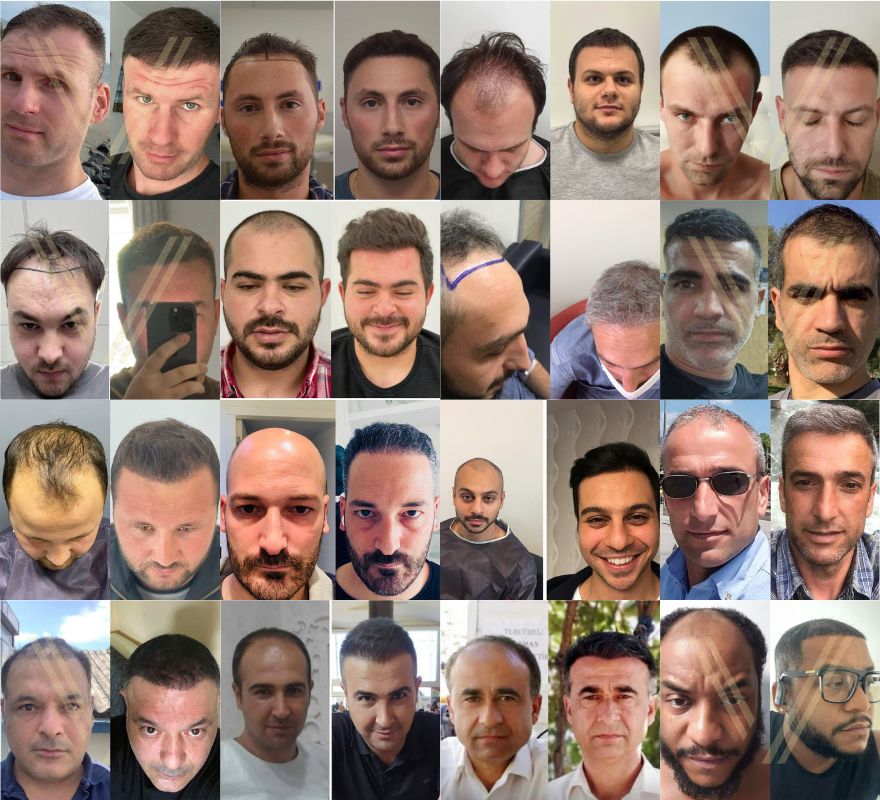 Please choose the number of grafts rage to explore Turkish hair transplant before & after photos.
Turkey hair transplant before and after
Before and after photos are great indicators of a clinic's work and what you can expect after your hair transplant operation. Taking a look at comparable cases, you can understand what hair transplant operations can offer you. You can ask for before and after photos of previous patients based on the transplant area and the number of hair grafts required for your surgery.
We strongly advise our patients to peruse before and after photos before making their decision on whether they want to go through a hair transplant surgery or not.
Here are a few examples of frequently asked quesions about hair transplant results from patients that trusted Vantage Hair Clinic!
How to choose your clinic?
Choosing the right hair clinic for you is one of the most important factors for achieving great hair transplant results. But how do you choose your clinic when there are many promising clinics out there?
You can start by searching for clinics experienced in the specific type of hair transplant you are interested in such as afro hair transplant, or no-shave hair transplant.
Once you have a potential list of suitable clinics, you can ask for details on how they perform the surgery and before and after photos of their patients. Make sure that the before are after photos are comparable to your cases such as the number of grafts that will be transplanted and the transplant area. You might need 3000 grafts of hair transplant for the vertex or 4000 grafts for the crown and front. Ask for similar cases to see the potential results you can achieve.
Post operation support is also an important factor you need to pay attention to while choosing a hair transplant clinic for your operation. Because the recovery period is such a crucial process, you will need a team that can guide you through the recovery after your operation. Make sure that your clinic offers post-operation support and is available for you whenever you have questions after the operation.
Another important thing is, of course, the price point of your chosen clinic. Since there are many different clinics, you find one that is suitable for your budget. However, it is advisable to avoid extra cheap clinics because of safety and quality concerns.
How much does a hair transplant cost?
Hair transplant operations can be pricy and intimidating. After all, breaking the bank for aesthetic surgery might not be for everyone. But there is no need to feel discouraged because of the high prices. Here in Turkey, experienced and qualified clinics offer hair transplant operations for much more affordable prices. This is thanks to the booming medical tourism industry in Turkey and the high exchange rates against EUR and USD. The cost of hair transplant operations in Turkey varies between $2,000 and $5,000.
How many hair grafts do you need for a full head of hair?
The number of hair grafts needed for a full head of hair changes depending on the extent of hair loss. For severe cases of hair loss such as the Norwood scale 3-5, patients usually need 3,000 to 5,000 grafts for a full head of hair.
However, lower amounts can be adequate for less severe cases or higher amounts of hair grafts can be required for much more severe cases. You can consult with your surgeon to understand how many hair grafts you will need for a full head of hair.
What to do before a hair transplant?
Prepping for a hair transplant operation does not require you to do much. Your surgeon will carefully analyse which medication you are currently using and advise you to stop taking certain medications before your operation. For example, medications such as blood thinners should be avoided before a hair transplant.
Further, you will need to stop drinking alcohol and smoking a few days before your surgery as these affect blood circulation.
Your surgeon will also let you know when you should stop eating and drinking before the operation.
Make sure to wear a loose-fitting comfortable outfit on the day of your surgery.
What to do after a hair transplant?
Right after your surgery, make sure that you don't need to drive to get back home and get some rest to shake off the effect of surgery. However, you should be able to get back to your normal life once you got some rest. If you want, you can go back to work as soon as you start to feel normal. But giving your body some more time to rest is advisable.
After your hair transplant, it is important to follow your medical team's advice on aftercare. Proper aftercare is one of the key factors in achieving successful hair transplant results. Be careful not to touch or scratch your head as both the donor and transplant area will be extremely sensitive. You may feel itching and sensitivity for a couple of days after the surgery.
You should avoid sleeping in the transplant area to make sure that you don't damage the newly transplanted hair follicles by rubbing your head. You can sleep in an elevated position to reduce swelling as much as possible.
Until your surgeon gives you the green light, avoid any strenuous activities and sweating. Strenuous activities affect blood circulation which can interfere with the settling period of the newly transplanted hair follicles while sweating can create a welcoming environment for infections. You can consult with your medical team to get more tips on what you should be doing after your hair transplant operation.
Do you wish to know more about the progress? You are welcome to take a closer look into hair transplant growth timeline. Also, feel free to shoot any questions for our team of experts to answer via WhatsApp button on the bottom-left and our contact form. Who knows, maybe you path to a youthful look with higher confidence lays one click away.