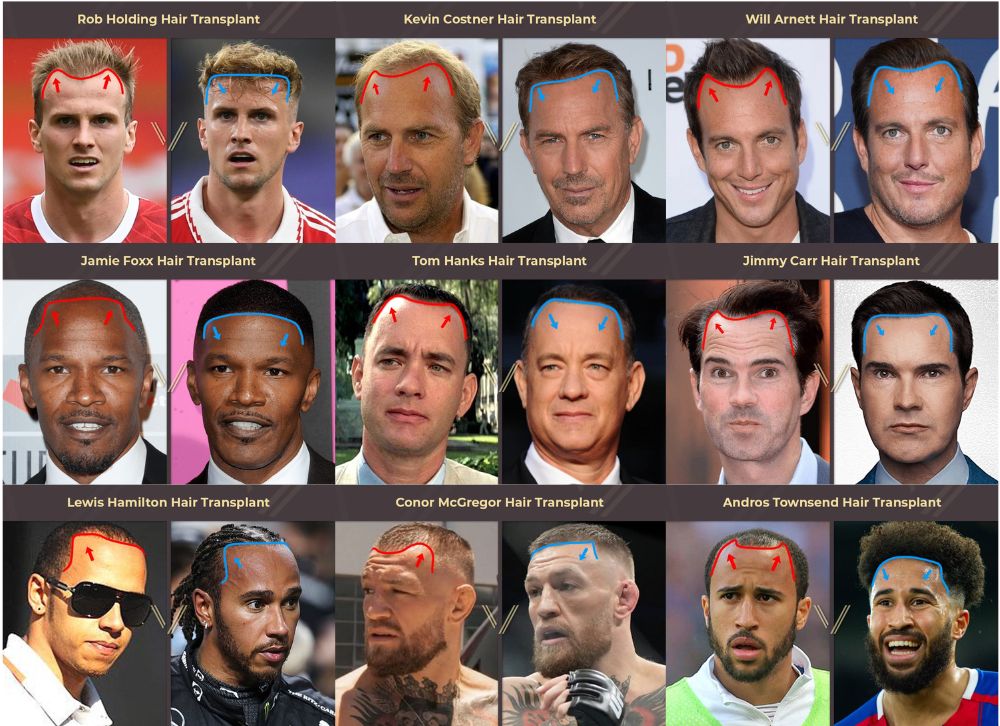 We all know that hair loss is a common concern that affects individuals of all ages and occupations, including celebrities. Appearance and image can be integral components of a celebrity's brand and career, so it's unsurprising that most public personalities consider hair transplants as a solution for thinning or balding hair.
Recapturing their youthful appearance is no crime after all. Celebrities also need to preserve their looks the way their audiences have them pictured. Many celebrities are known for their signature hairstyles, and a hair transplant can help them to maintain the density of their hair, allowing them to continue sporting their signature look.
So let's take a look at some top celebrity names rumored to have gotten a hair transplant, to see who admitted it and who keeps it a secret…
40 Celebrity Hair Transplant Before and After Photos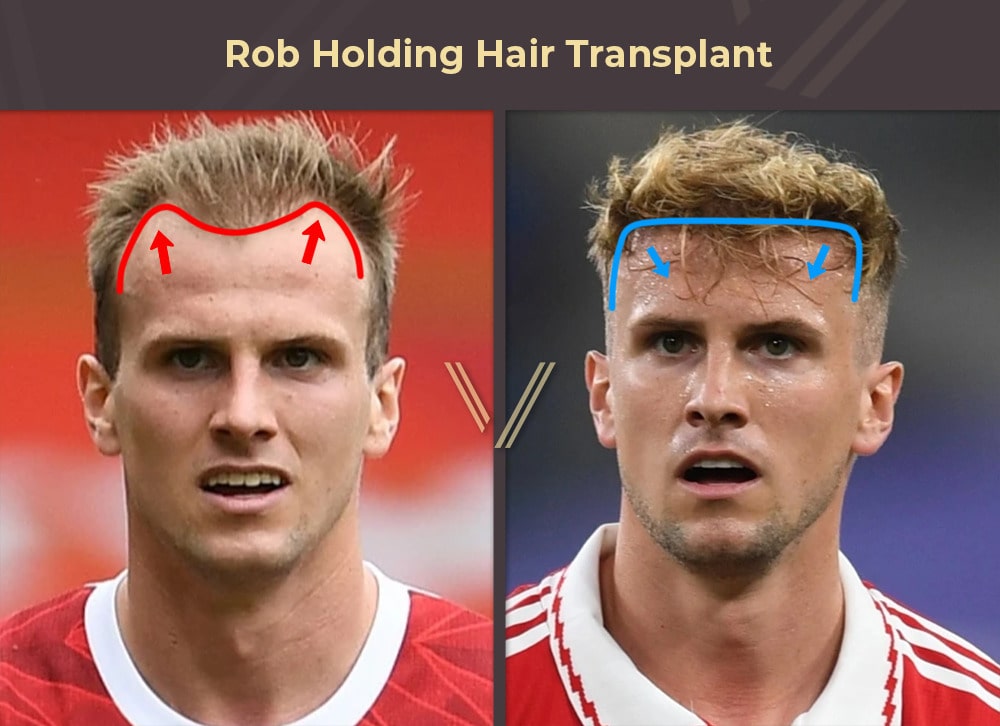 Rob Holding
While Holding is known for his impressive defensive skills on the pitch, there are also other facts about the young center-back. Although we are hesitant to call it a secret, his case is probably the most out there footballer's hair transplant.
His hair has gone from zero to hero. In more technical terms, he was suffering from rapid hair loss at a young age but the majority of his hair loss happened in the last year before the hair transplant. As a result, he got himself a nicely framed hairline aged 25.
If Rob's case is not the most vivid evidence of how a hair transplant can transform a person, we don't know what is…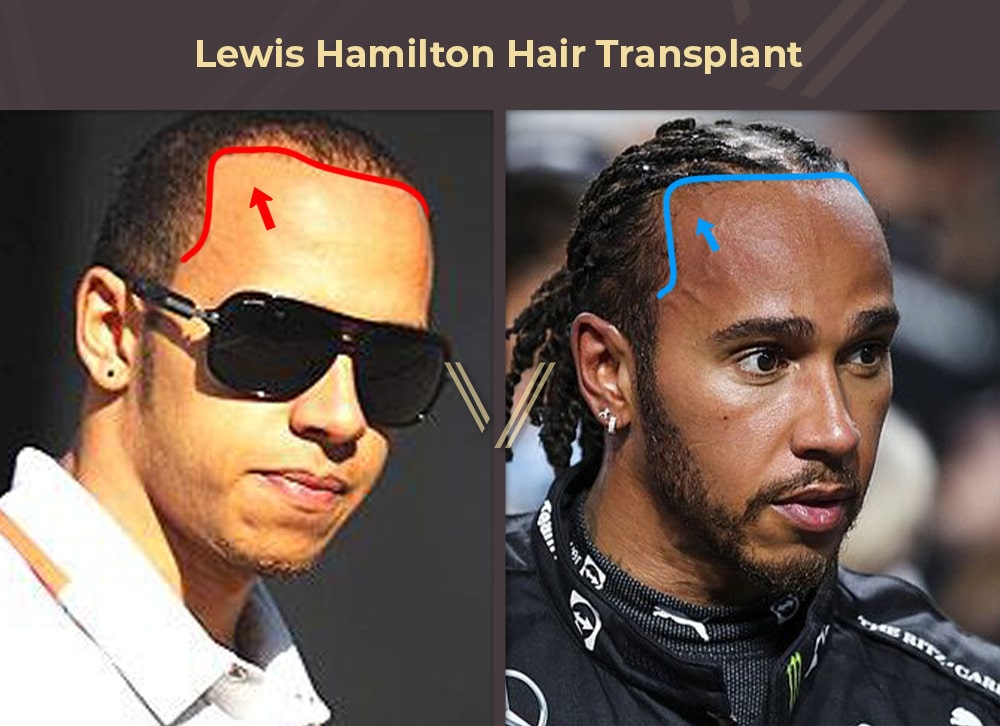 Lewis Hamilton
Our animal lover, vegan racer king Lewis Hamilton has obviously a thing for his appearance and braids like most celebrities do. In addition to his successful racing career, Hamilton is lately seen with a noticeable difference which is his hair.
Previously we saw him with a receding hairline that travelled more and more backward, not to mention the dull, dry state of his hair. He is a braiding aficionado so that does not help an unhealthy scalp but damages hair follicles even more by pulling them instead. He must have realized that he is losing his hair quality because he has clearly done something about his hair problem, which is probably a successful hair transplant pocedure.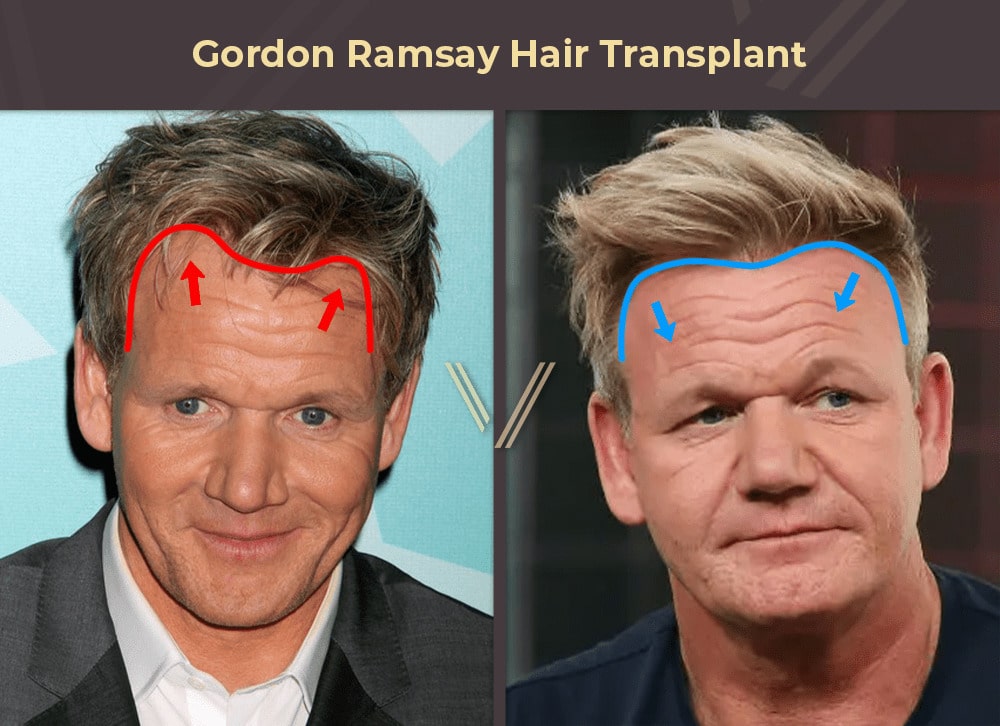 Gordon Ramsay
Currently holding a total of 7 Michelin stars across his restaurants and has 14m followers on Instagram alone, Gordon Ramsay has undergone several hair transplant procedures over the years.
Ramsay is still rather attractive with the amount of hair on his head that he meticulously styles. We can't imagine what Hell's Kitchen would look like without the extra mile he has gone to restore his hair. It means that he has been holding on to the recipe for hair restoration all this time…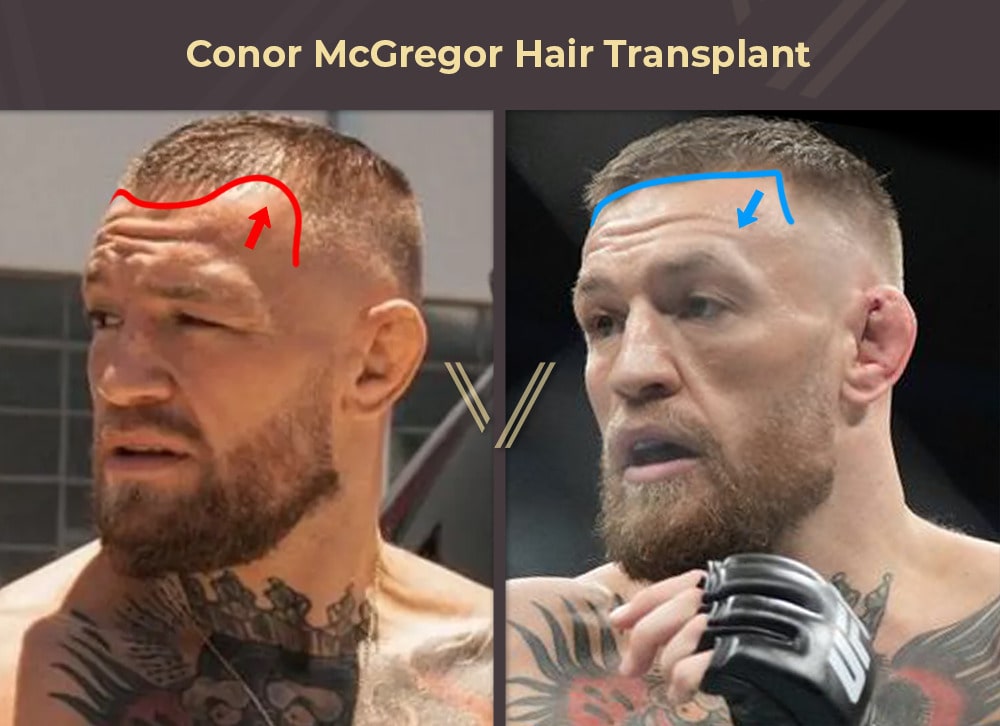 Conor McGregor
Conor posts too much on his socials and so do his fans about him. It has therefore been effortless to determine the reasoning behind the change in his appearance. There's also an ocean of pictures of him with post hair transplant scabs still visible when looked at closely.
He naturally has very thin, baby-like hair which is usually more prone to hair loss. Luckily for him, Conor seems to have fixed his hair loss problem as someone who is almost obsessed with his looks. No mention came from him about a hair transplant, but we can even tell the method used; it's a FUE…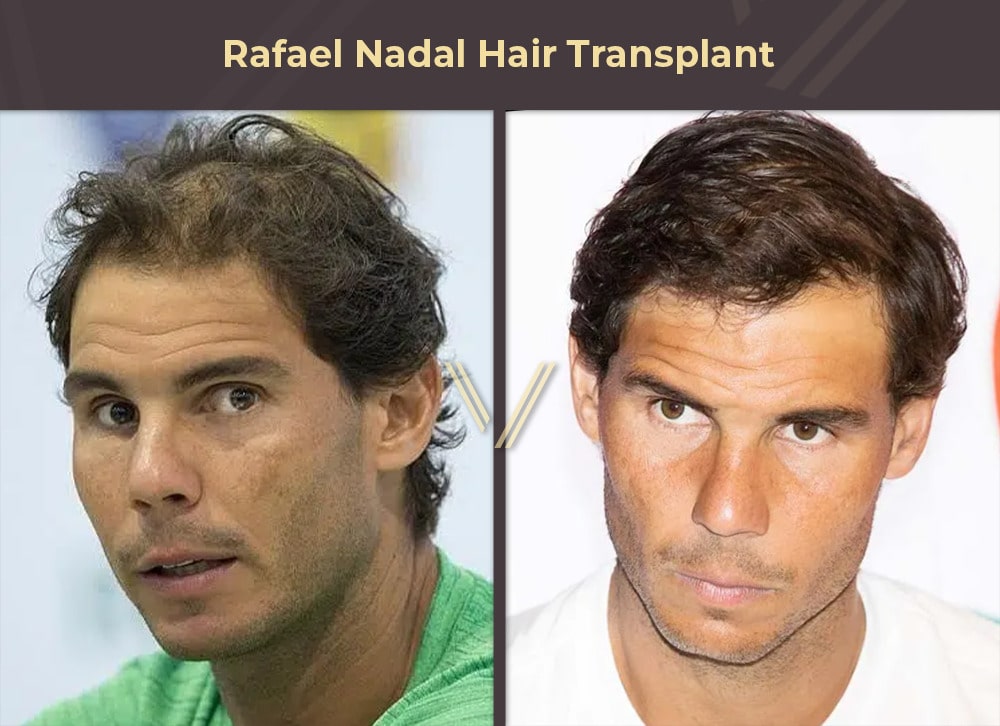 Rafael Nadal
Rafa Nadal is known for his aggressive style of play and his powerful forehand shot. It is no secret that he underwent a FUE hair transplant, but whether the treatment yielded the outcomes he anticipated is another question.
We don't have enough information to speculate on what went wrong with Nadal's hair transplant, but under normal circumstances, the typical male pattern baldness he has can be cured after a single hair transplant treatment in the hands of an expert surgeon. The success rates of hair transplants nowadays are more than 98%.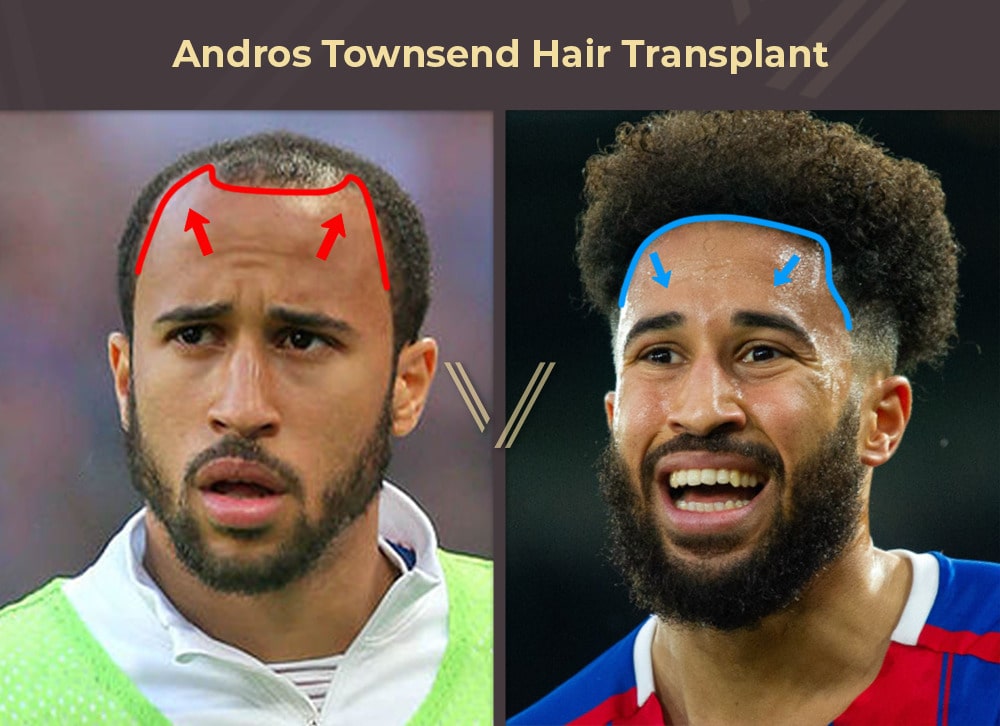 Andros Townsend
Andros Townsend is a professional footballer who currently plays as a winger for Crystal Palace and the English national team. While Townsend is known for his impressive footballing skills and strong performances for both club and country, he has lately been rumored to show some extra TLC to his hair.
Hailing from a mixed Jamaican and Cypriot heritage, Townsend is said to have tried the scalp micro pigmentation (SMP) method, prior to having a hair transplant. He may have opted for an SMP as a temp solution to finally have the courage to go for the only permanent hair loss solution.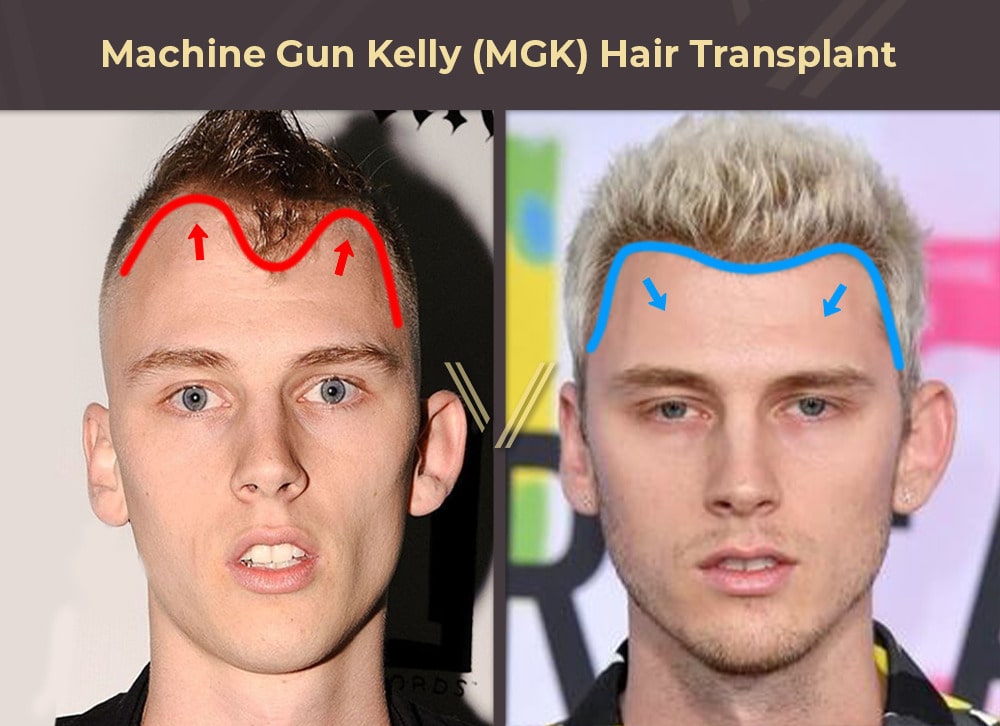 Machine Gun Kelly (MGK)
Has Machine Gun Kelly (MGK) undergone a hair transplant? The rapper and actor has never publicly confirmed or denied the rumors, leaving us all in suspense. But we can't help but wonder how MGK went from a receding hairline and a worrying widow's peak to a full and youthful mane and if he has joined actors with hair transplants?
A comparison of photos from earlier in his career to more recent ones suggests that MGK's hairline may have undergone a transformation.
Some say it's the magic of hair care products, while others are sure that MGK have turned to a hair transplant to restore his hairline. Until MGK spills the beans, we can only continue to speculate.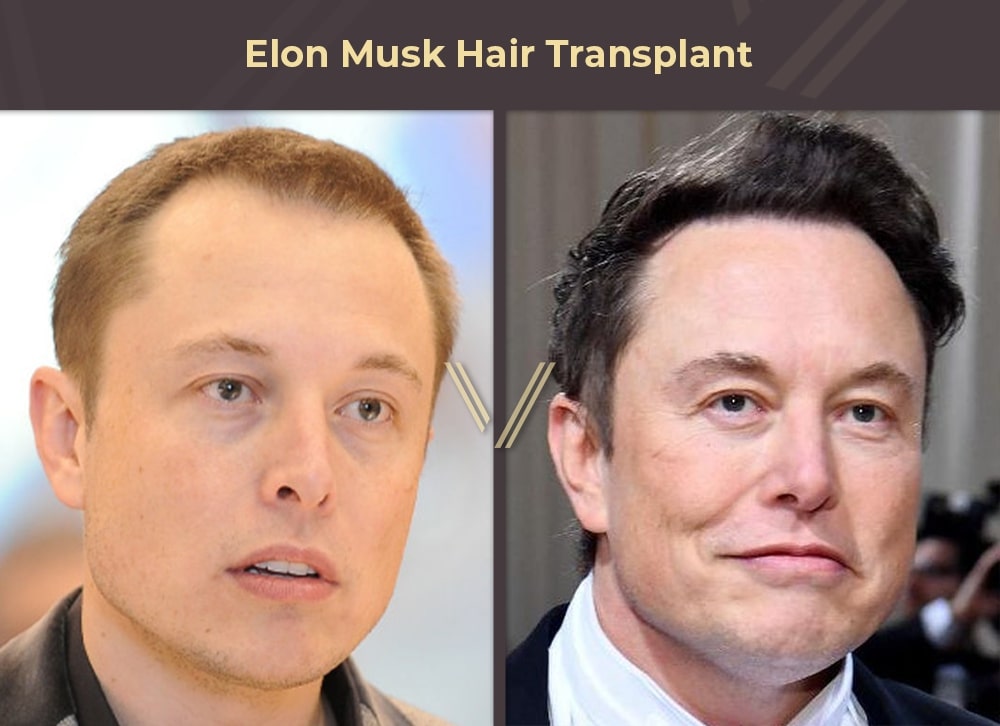 Elon Musk
The whole world knows that Elon Musk was balding as early as his mid-twenties and those pictures of him are still around. As a result, the business magnate and entrepreneur who is known for his innovative and ambitious ventures in the fields of technology and energy underwent several hair transplants.
Sadly no longer the richest man on Earth, Musk has had more than one FUT hair transplant leaving visible strip lines on the sides of his scalp. The good news is that he managed to retain the transplanted hair, showcasing a full head of hair and a great-looking hairline in his fifties.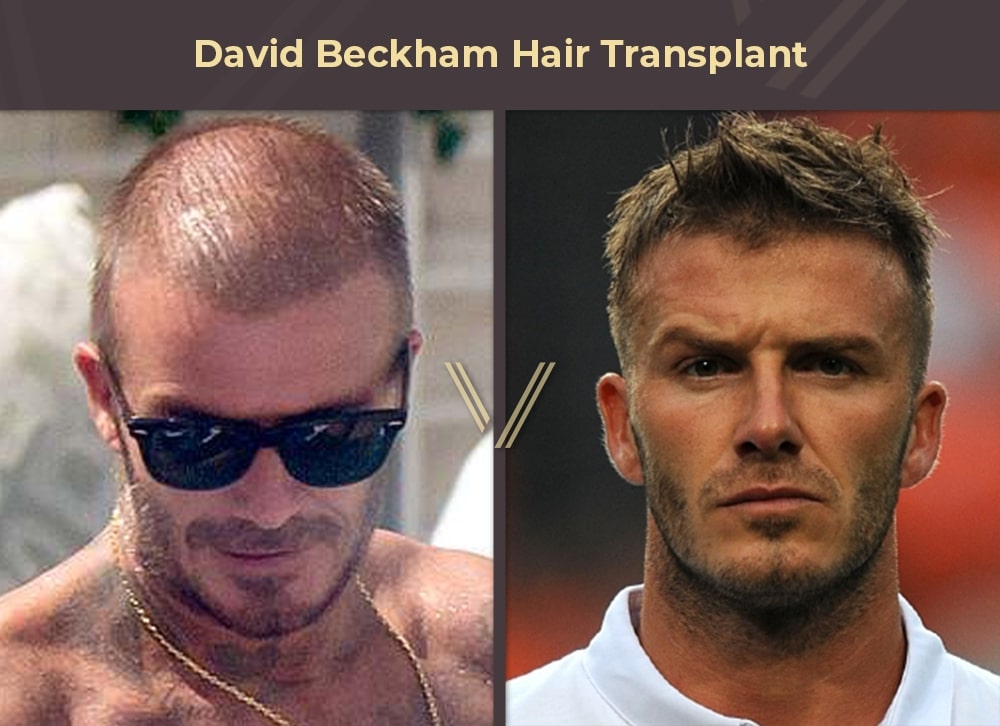 David Beckham
Even though David Beckham has never confirmed the claims, it is impossible to ignore the difference between his before and after looks portraying an enhanced hairline. With a near-infinite net worth and a fashion icon wife he sure has access to all sorts of treatments, the common people don't even know that exist.
Although there's no clear evidence that indicates he had a hair transplant, it is not unexpected that he appears to have had one. All in all, looking elegantly British and aging better than a fine bottle of wine.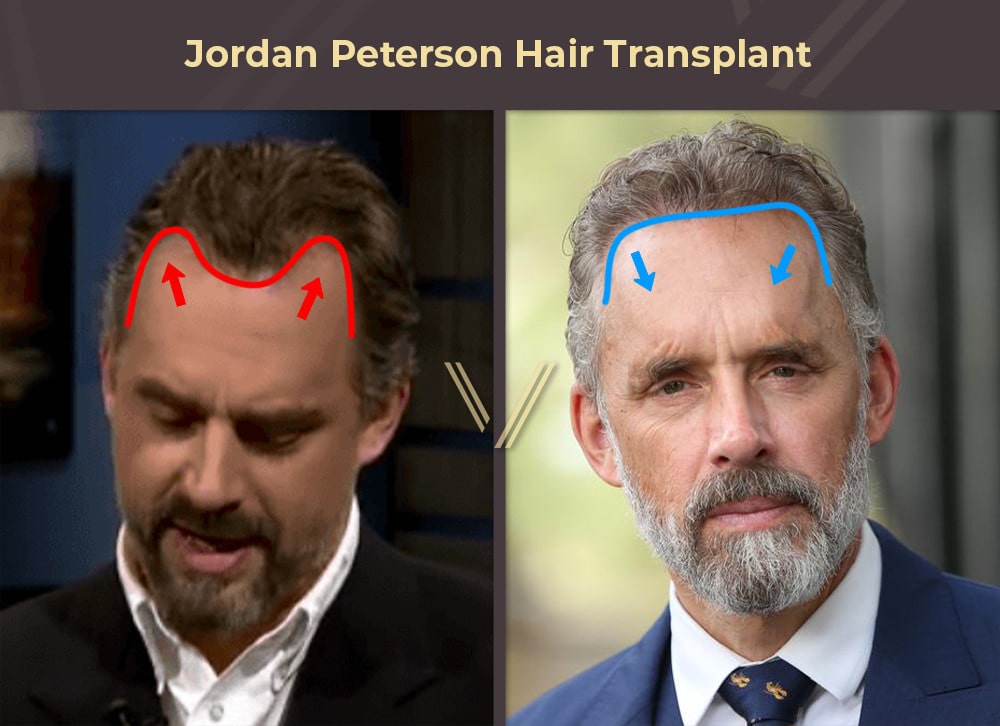 Jordan Peterson
Jordan Peterson has a debatable stature, but if there's one thing about him that everyone can agree on, it's that his hairline is far healthier than it formerly was.
As hair transplant experts analysing celebrities through our hairline investigator googles, Peterson's case is a Hair Transplant 101. What does a significantly improved hairline suggest? Professor Peterson has got the answer for you… Also, it's childish for someone his age and authority to neglect the claims that he has had a hair transplant.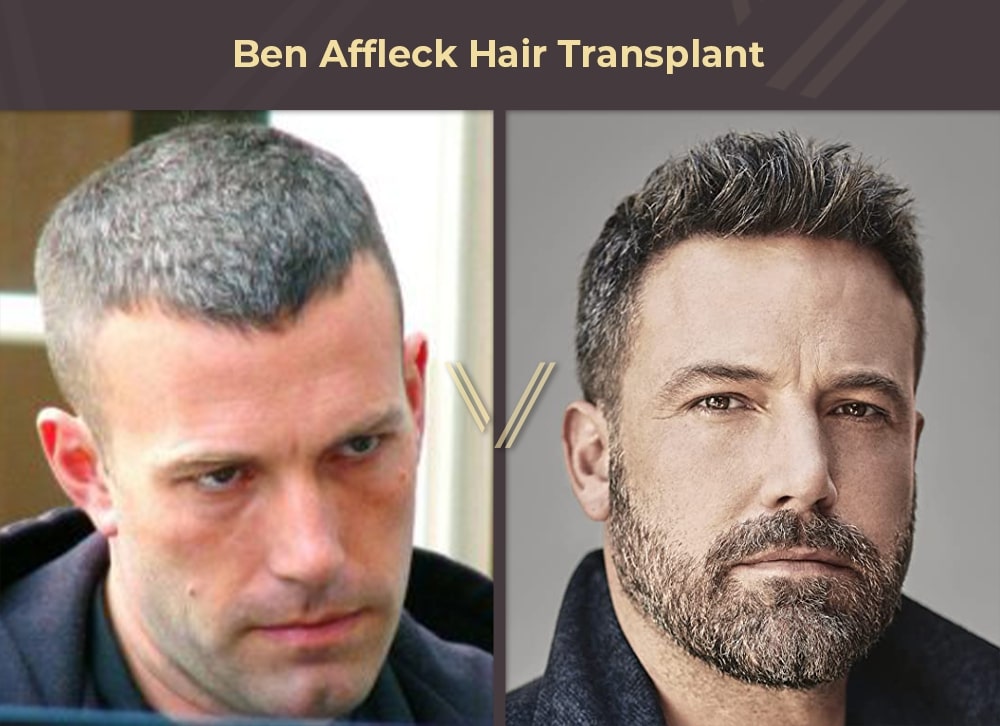 Ben Affleck
He will be eventually overthrown by his younger counterparts but Affleck will always be Affleck. Still scoring great front-runner roles in high-prospect and high-budget productions, it is clear as day that Affleck did something to alter his appearance on the hair front.
He is one of the celebs who did not openly announce anything about his suddenly wonderful looking, denser, thicker hair but hey… we just know it and we won't ignore the fact that he has got some hair magic, a.k.a. hair transplant, going on.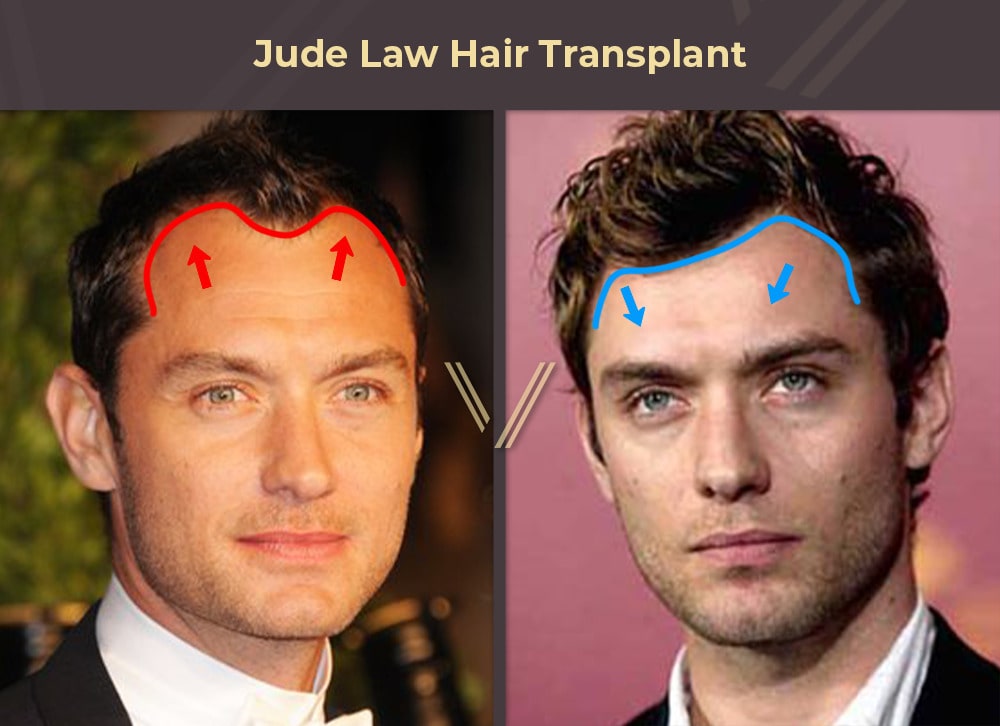 Jude Law
Crowned as the sexiest man alive, the talented actor had a time in 2013 when he consumed ten cans of sugary soda every day in order to put on weight for his role as a bank robber in the 2013 comedy-crime thriller Dom Hemingway.
Once known for his erratic hairline, the actor has reportedly gotten some kind of hair restoration treatment, but he has never formally confirmed a hair transplant. Jude Law is one of many celebrities who have had receding hairlines due to hereditary reasons as well as aging.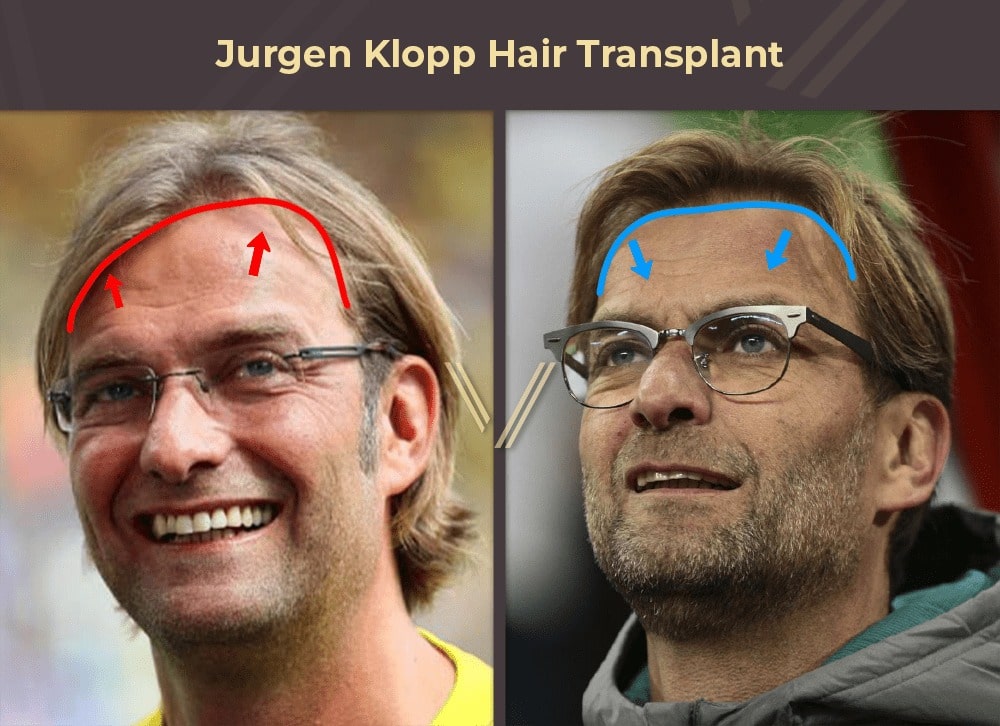 Jurgen Klopp
People commonly experience receding hairlines as they age, and although some may opt to disregard nature's consequences, others are less at ease and make an effort to seek solutions.
Jurgen Klopp is one of many famous people who have had a hair transplant surgery. Not only that but he is open about it and boldly admits to the media that he had a hair transplant, even commenting that it suits him. All we can do is agree with him!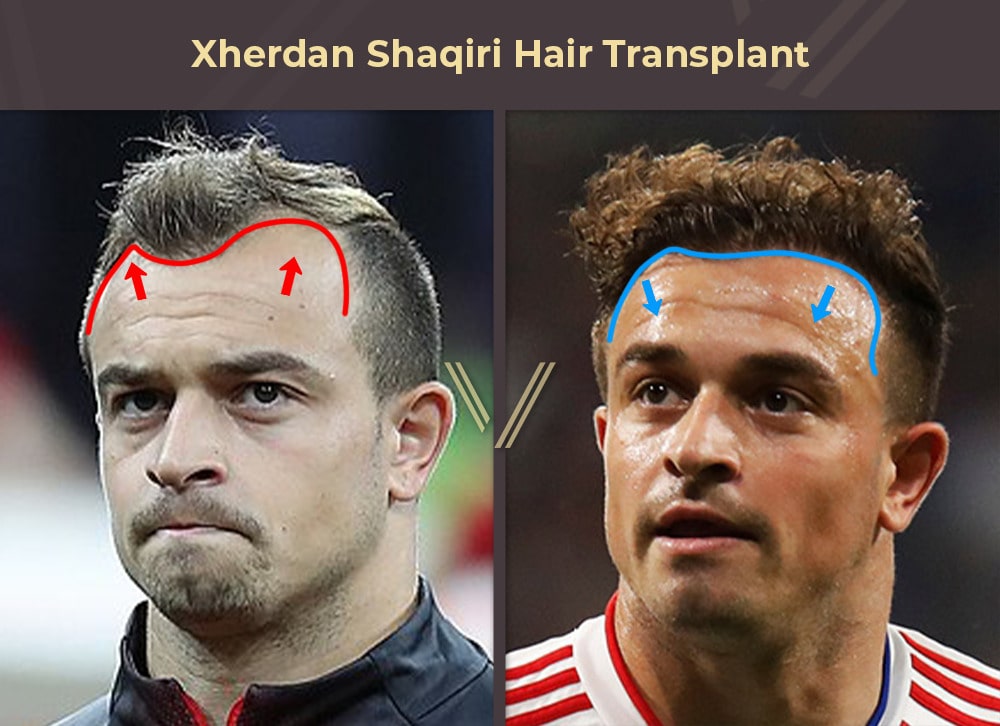 Shaqiri
Xherdan Shaqiri is a Swiss professional footballer who currently plays as a winger for Bayern Munich and the Swiss national team. Born in Kosovo, Shaqiri moved to Switzerland as a young child. It is not uncommon for men from the Balkans to experience hereditary hair loss, and he is no exception.
In our estimation, a good 3000 grafts may have been transplanted on Xherdan but unfortunately, his hairline could have been designed much better in our opinion. No problems though as long as he's happy.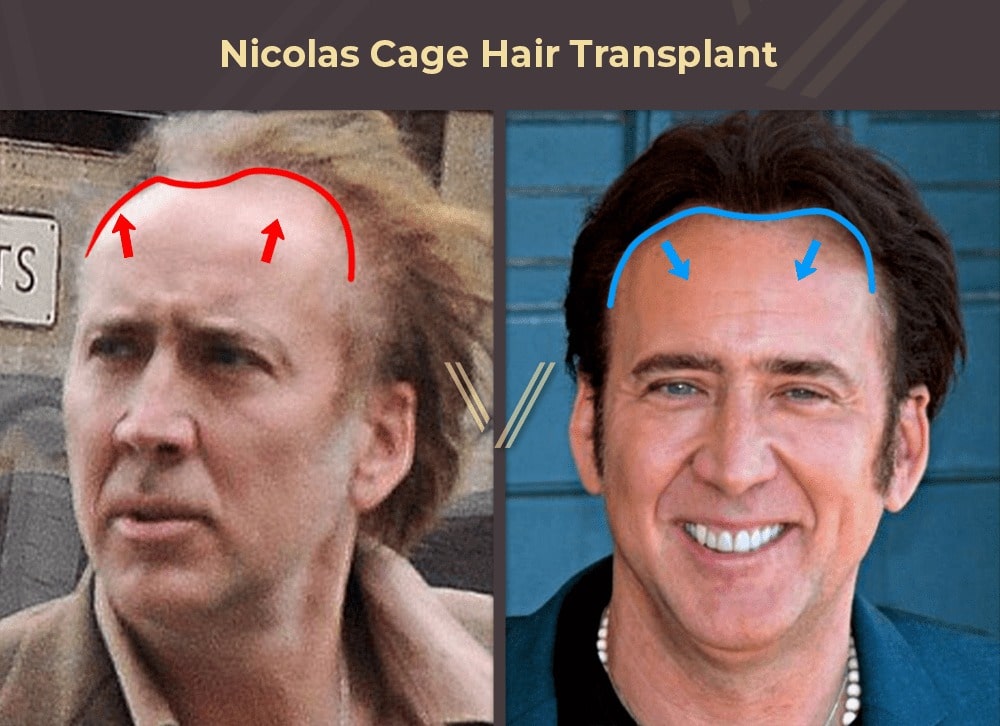 Nicolas Cage
In addition to his acting career, Cage is also an avid collector of rare and unusual items. His collection includes everything from vintage cars and motorcycles to exotic animals, and now looking like it includes a collection of hair.
Nicholas Cage started appearing in interviews and on Netflix with fuller, thicker, shorter black hair in mid-2021. The difference is so noticeable that it only leaves us with one question; what has he done to his hair? Is it some sort of hair system using fibers to make his hair look fuller or has he gone through a hair transplant? Probably yes.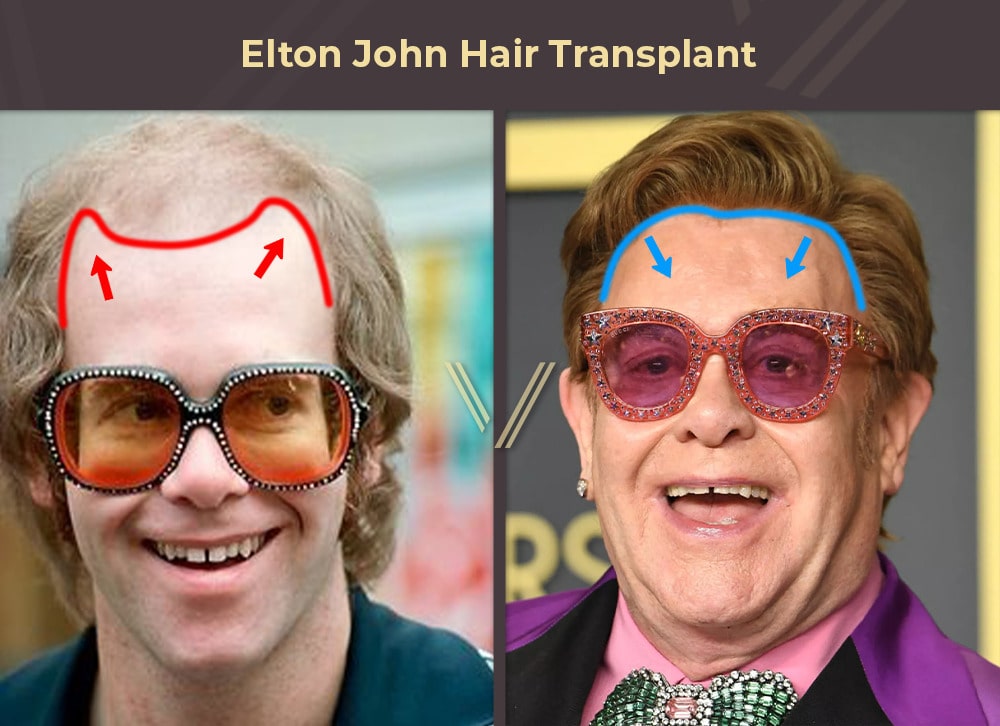 Elton John
When Sir Elton John turned 30 years of age, his baldness had already become fairly advanced. It was the 70ies and he probably had one of the earliest attempts of a strip hair transplant followed by a second surgery. They both failed and he turned into hats and wigs.
It is rumoured that he then had a third attempt, again in Paris like his former two surgeries, but no luck. He seems to have accustomed to wearing wigs every time, he makes an appearance.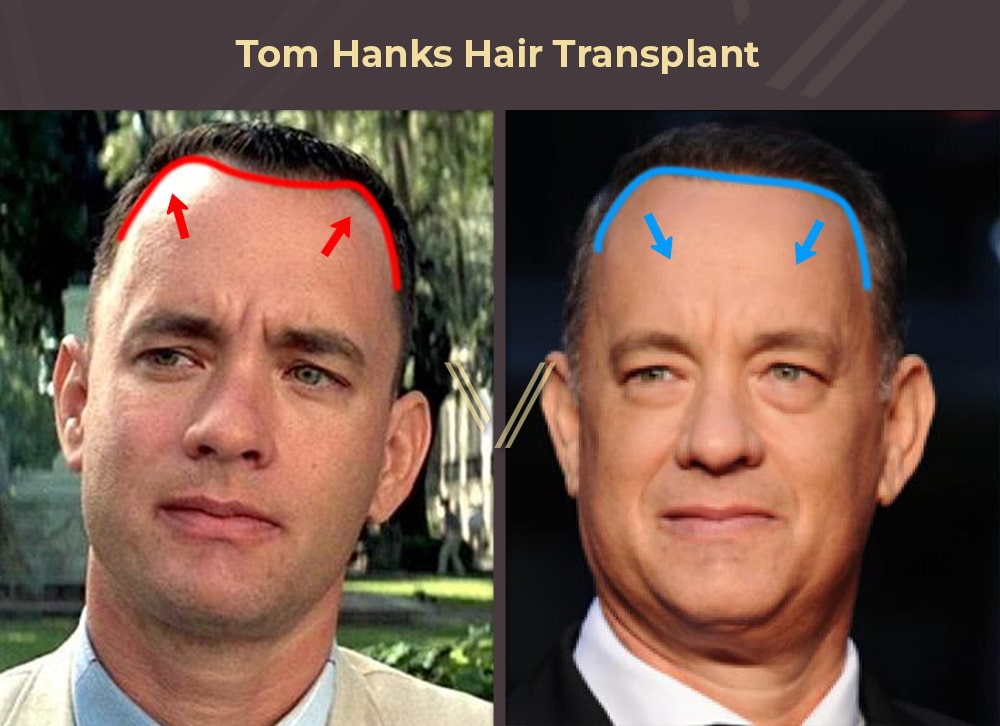 Tom Hanks
"Forrest Gump" and "Cast Away" star has had some visible hair loss over the years. It looks like he opted for the logical, quick solution and underwent a hair transplant since his hair density issue was kind of obvious.
He only had it done where the thinning was most screaming, around the hairline and the temples, to keep his appearance as natural as possible. He achieved exactly what he desired because the results are hardly apparent but fully satisfactory at the same time.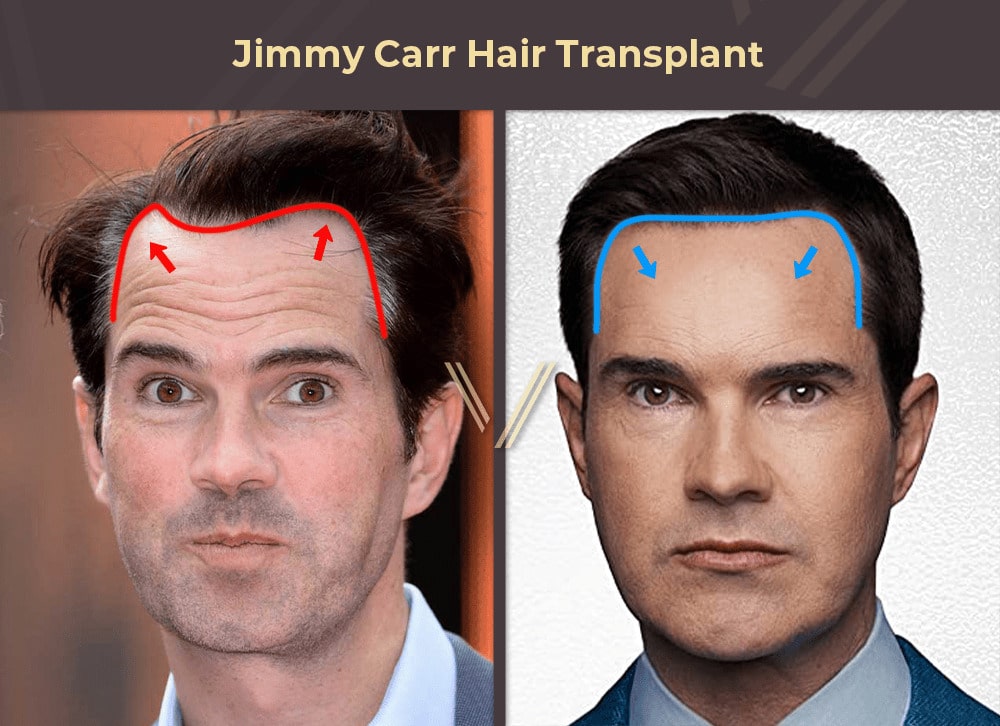 Jimmy Carr
Known for his distinctive dark sense of humor and quick wit, Carr has won numerous awards for his work. Despite sometimes attracting criticism for his jokes, Carr remains a popular and highly respected figure in the world of comedy.
He is known for his irreverent and often controversial comedic style but nowadays he gets mentions about his hair rather than his jokes. He made it public that he has undergone a hair transplant in an interview in 2020, joking that he had enough hair but in the wrong place. Given his age, it was about time for him while he still had healthy donor hair on his head for the procedure.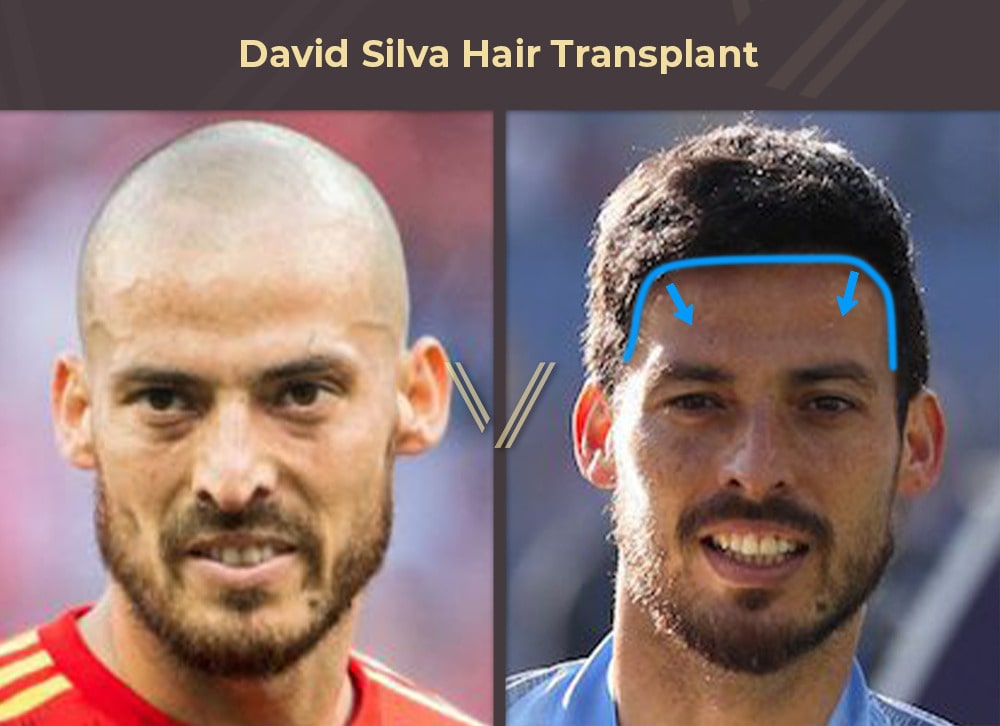 David Silva
David Silva is known for his technical skills and creative playmaking ability and has been recognized as one of the top midfielders in the world. He is often praised for his vision, and ability to score goals. This is also true when it comes to his appearance. Silva underwent a hair transplant procedure in 2017 to get his hairline corrected and filled in.
His hairline has clearly receded and now has a boundary that didn't exist before. We can see that the hair transplant successfully shifted his hairline nearly an inch to the front. He looks pretty good in that, and it seems quite natural.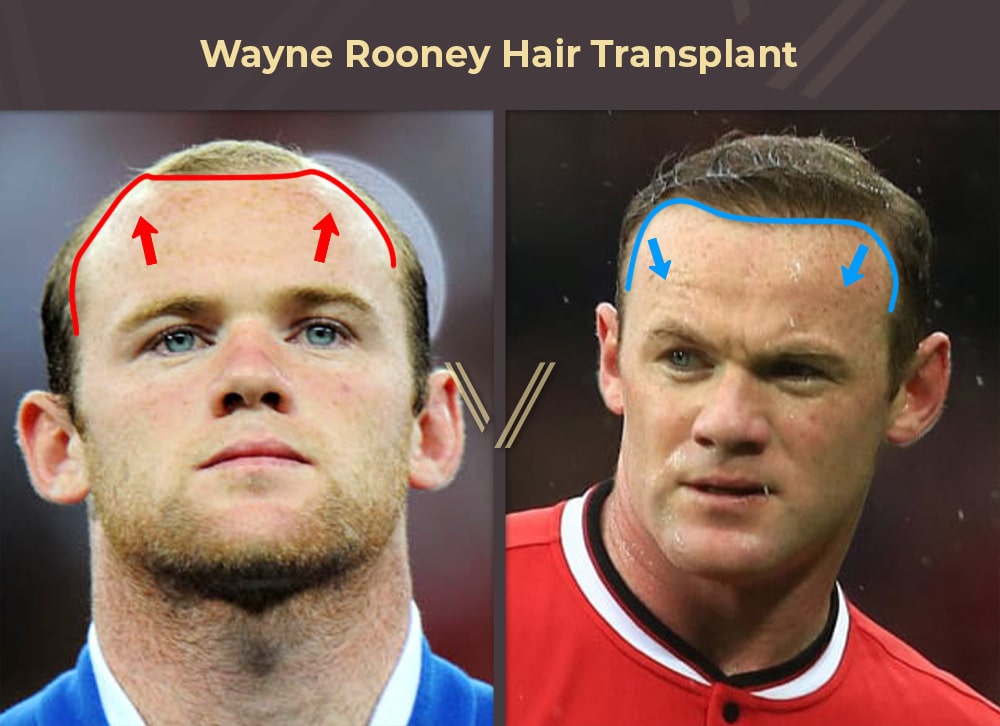 Wayne Rooney
In addition to his successful footballing career, Rooney is also a brave and honest example of footballers with hair transplants. Having had two of them in 2011 and 2013 respectively, he has had about 4000 grafts transplanted on him all those years ago and still going strong.
Although Wayne is the first football personality to publicly discuss his hair concerns in the media, he's definitely not the last one. He has set an amazing example to the world with his honesty, proving there's a solution for every hair problem.
Antonio Conte
One of the greatest coaches of all time, Conte is an amazing material for the best celebrity hair transplant pictures. He has undergone several hair transplant procedures over the years, the last and most fruitful one being in 2020. Conte's appearance and self-confidence saw a significant transformation after the last hair transplant procedure. The latest procedure clearly froze his aging as he appears younger and fresher.
Anyone dealing with hair loss will find inspiration in Antonio Conte's story of not giving up on his hair. His experience has shown us that it is important to keep an eye on how fast medical tech develops to provide advanced solutions. He simply took responsibility and charge of his hair loss and made a choice that enhanced his own sense of self-worth and general confidence.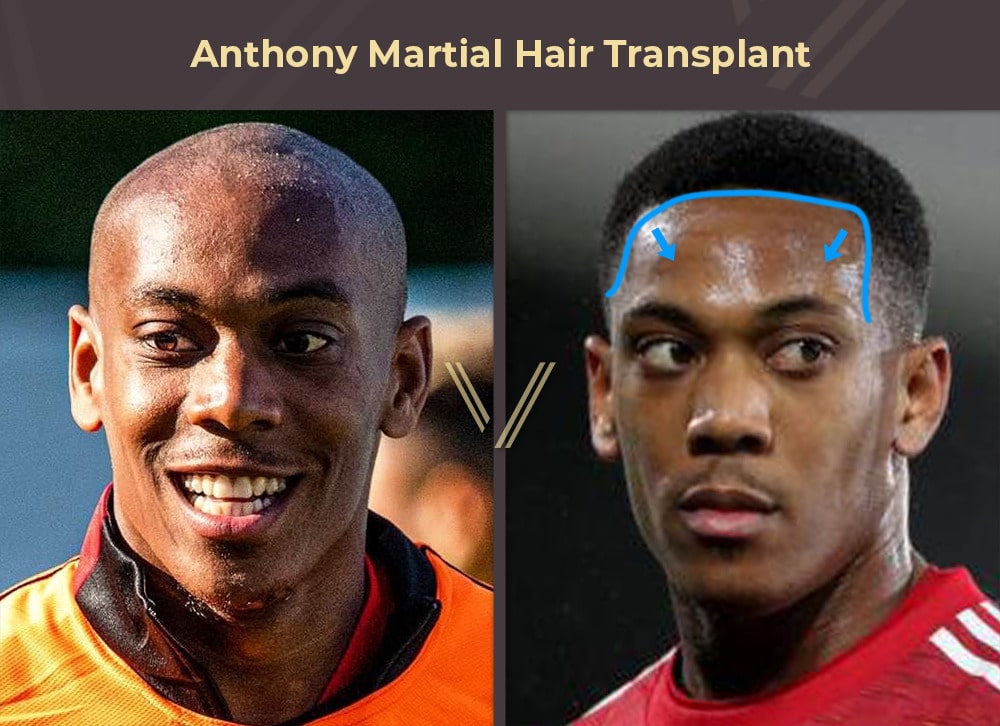 Anthony Martial
While Martial may be best known for his footballing abilities, he also has a range of other interests that make him a well-rounded and interesting individual. One of those interests is clearly his dedication to his hair.
There are an increasing number of clinics that offer technological and surgical treatments for hair loss and it's a known fact that high-profile individuals like Anthony Martial frequently visit these clinics to improve the quality of their hair. Whether his love of hair care will end up in giving the hair transplant a go, still remains a mystery.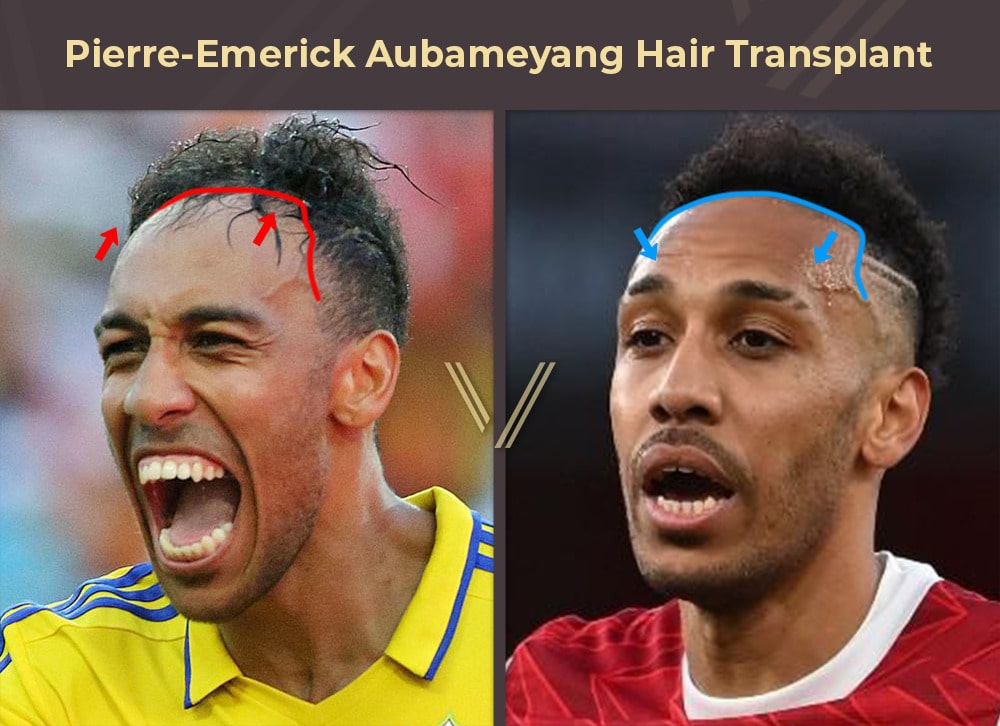 Aubameyang
From a Norwood scale 4 level of baldness to a perfect-looking hairline and visibly denser hair, we have been expecting a hint from Aubameyang about how the magic happened. Did he join the club of footballers with hair transplants?
No public announcement has come from him but a hair transplant is so obvious that some have cracked a joke that he has gotten himself Turkish citizenship.
Looking fresh, much younger, and more dynamic, he has taken the right decision by not delaying the procedure. It is important to still have healthy donor hair grafts to undergo a hair transplant. He is most definitely a masterpiece in our celebrity hair transplants before and after look-book. His hairline design looks very natural too, so whatever happened there, happened for a good reason!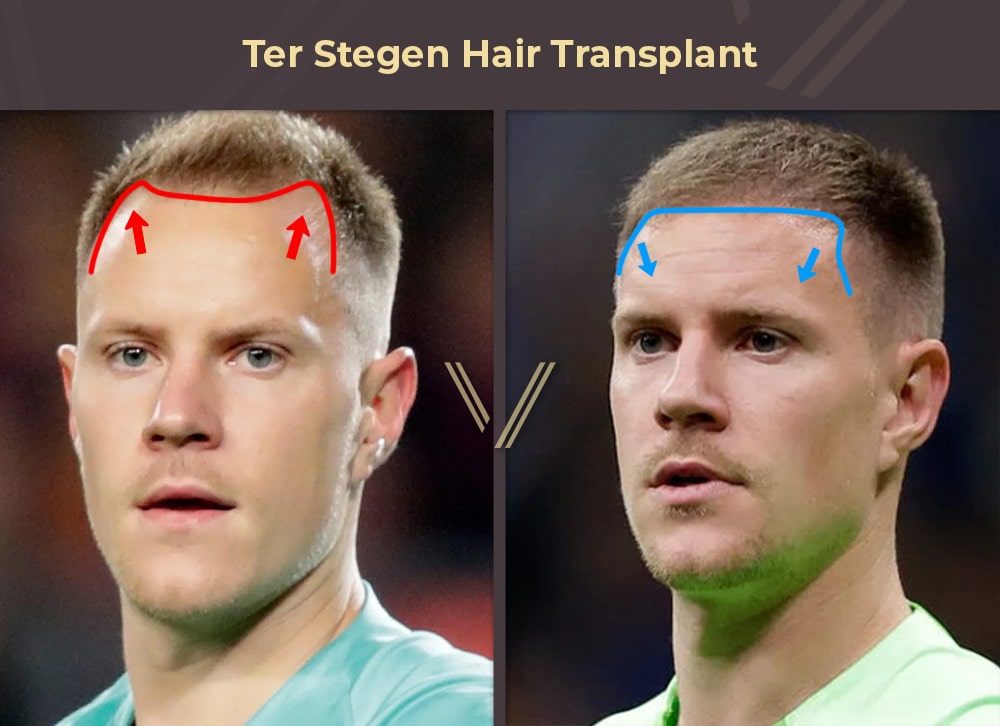 Ter Stegen
The German professional footballer who currently plays as a goalkeeper for FC Barcelona and the German national team was spotted on Twitter with more than obvious signs of a hair transplant surgery.
Pictured early September of 2022 with a corrected hairline, fans are of the opinion that he is looking his best and we couldn't agree more. Regarded as one of football's top goalkeepers the world has seen, he is also smart for not delaying the hair transplant at age 30.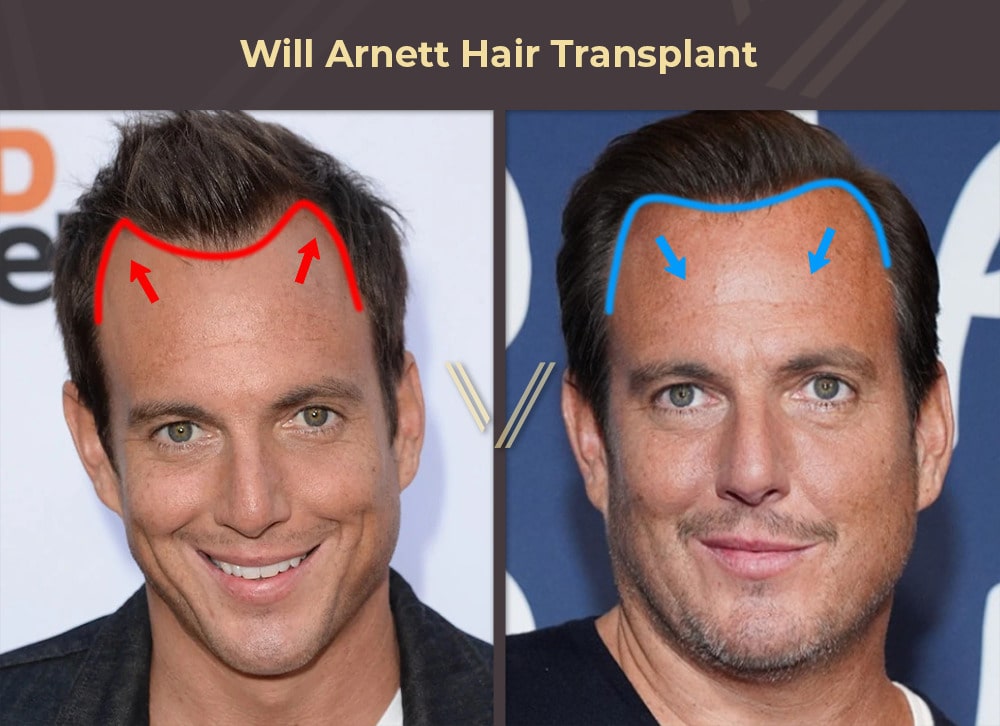 Will Arnett
Arrested Development star Will Arnett is also a talented writer and producer and has worked on a number of projects as a behind-the-scenes creative force. When it comes to hair loss problems though, talent or fame isn't effective. Arnett was eager to seek a long-lasting hair loss treatment when his hair began to noticeably thin down in 2012.
He then made the decision to have hair transplant surgery in California. His procedure involves removing hair grafts from the back of his head to be placed on thinning regions using a technique called Follicular Unit Extraction (FUE). Will's hair transplant produced outstanding effects that were immediately apparent.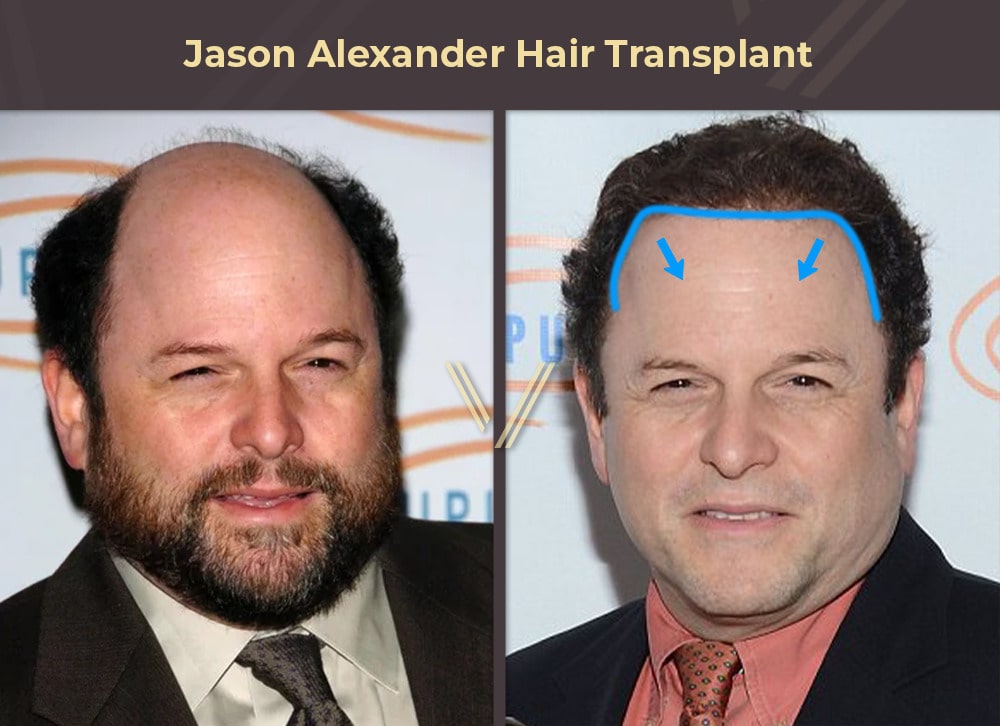 Jason Alexander
Did Jason Alexander have a hair transplant? Suffering from hair loss since his late teenage years, Jason says he has not had a hair transplant ever. He is completely bald on the front and crown of his head which means he only has hair on the sides.
He has found himself a solution he's happy with and uses a semi-permanent hairpiece that can be worn for weeks at a time. Solutions are plenty, some are just more permanent than others.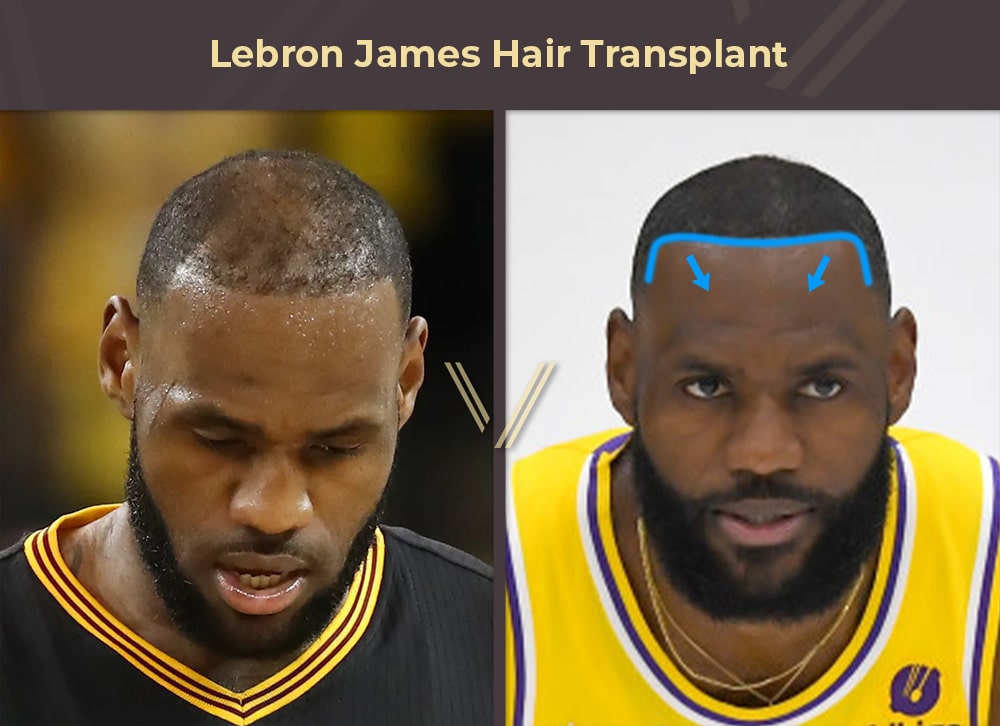 LeBron James
Throughout his career, LeBron James has been known for his exceptional physical ability and skill on the court. Off the court, James has established himself as a successful entrepreneur and has made numerous business ventures.
Lebron James is a highly accomplished and influential athlete who has had a profound impact on the world of basketball and beyond. That's precisely why, when it comes to his hair, it makes more sense for an active sports person like him to have gotten a hair transplant rather than using a hair piece or inserts. He may be still filling in with fibers for social media posts but an athlete won't take the risk of having inserts slip off, no way…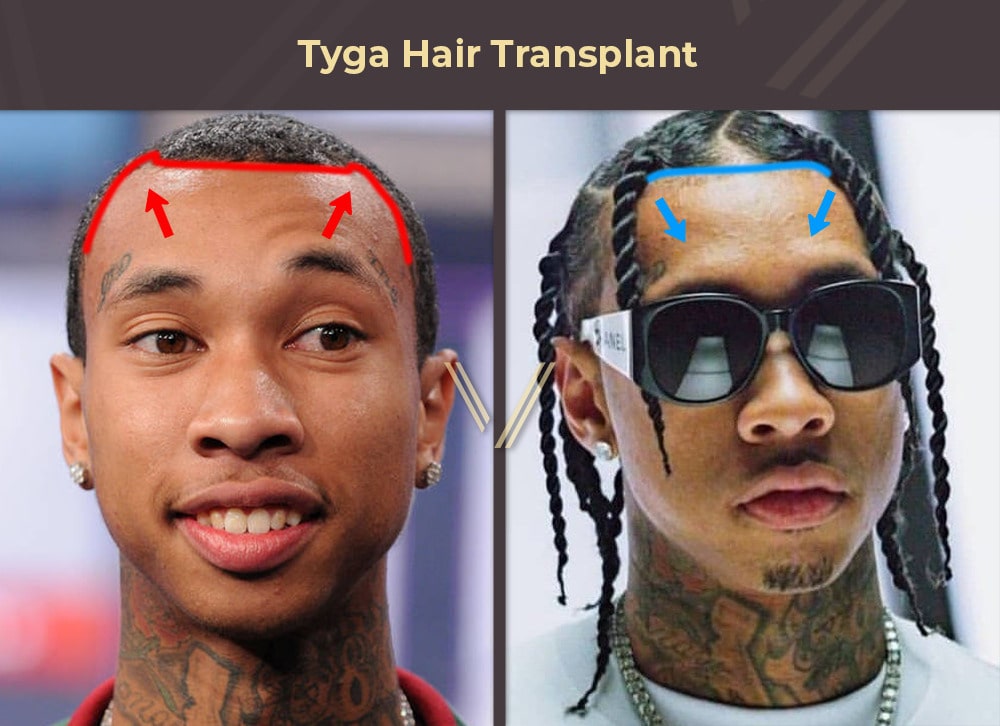 Tyga
Known to change up his hairstyles with frequency, Tyga has sported a number of different looks over the years. Tyga's hair loss at an early stage in his life may as well be related to exactly that… No one can understand the bond between the rapper and his hair better than they but he may have mistreated his afro-textured hair starting at a young age.
It is now common knowledge that he is actually looking after his hair, especially after getting a hair transplant done which was spilled by Nicki Minaj on social media last year.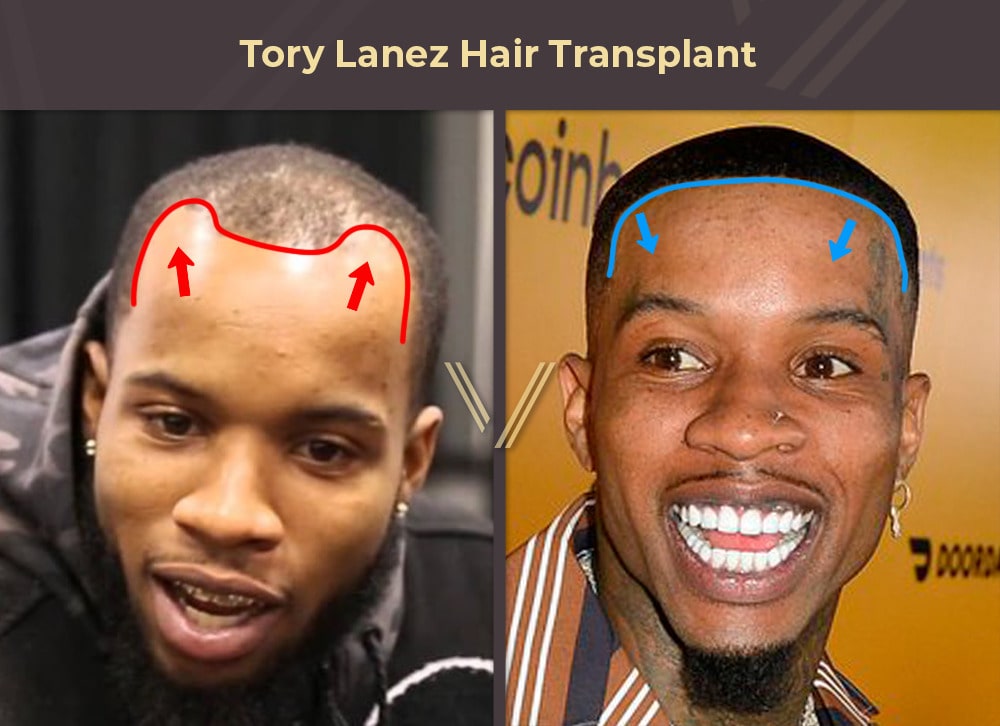 Tory Lanez
Lanez was certainly fast and smart about the hair transplant rumors. He immediately announced that he just grabbed Tyga's hair transplant clinic's number and booked himself an appointment.
Whatever the reason behind most celebrities hiding their hair transplant, Tyga took a different path. He smoothed things out by telling the truth and without making it look like it was a big thing, so people talked about it for a few days and the topic was archived…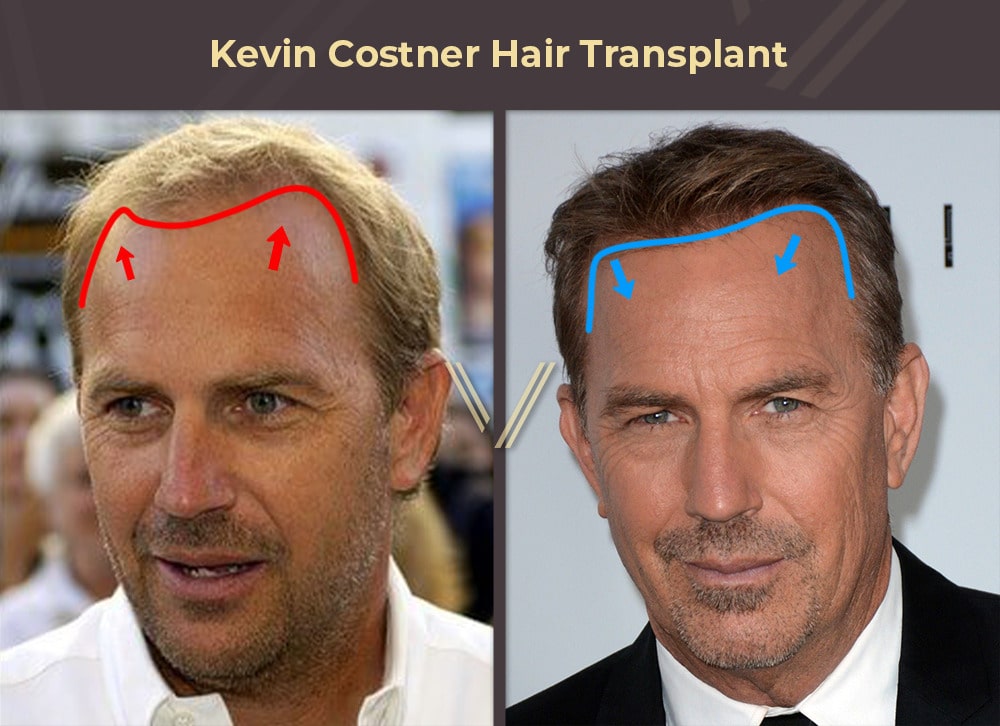 Kevin Costner
Costner has always been an attractive and engaging actor, but in the early 2000s, his hairline started showing signs of a tiring career. Always put together and healthy looking, hardly anyone noticed how deep his hair loss was going until he was in his fifties.
Costner himself has not made a public announcement about having a hair transplant however since he had an opening on his crown and a severely receding hair line which he no longer has, we'll just consider him a proud member of the hair transplant club. He now has the rich hair of an older gentleman, looking absolutely gorgeous!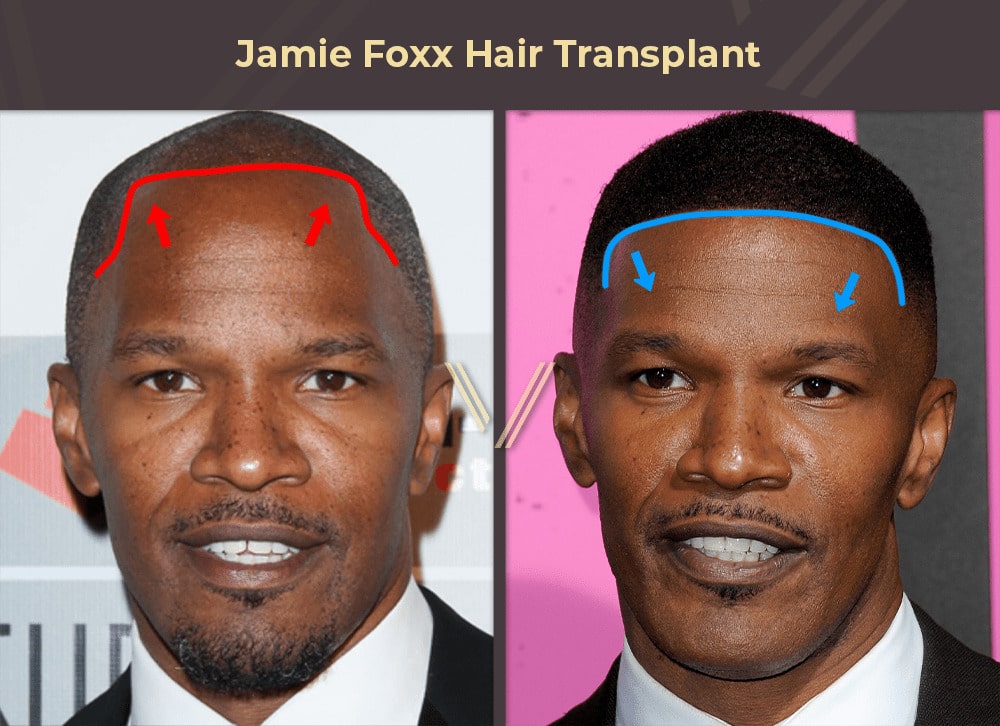 Jamie Foxx
It is no secret that the actor and singer has battled hair loss for much of his career. It is somewhat challenging to conclusively identify whether Jamie Foxx has received a hair transplant but as authorities on the subject, we can observe that his hairline has changed, which indicates that a hair restoration surgery has likely been done.
We would not have made the same comment if it was just his hair in general that got healthier and thicker. We just had to mention this because his hairline seems considerably fuller in more recent images, and hairlines don't just fill themselves in forming a perfect design… If he had a medical procedure, it must have been a successful afro-textured hair transplant operation.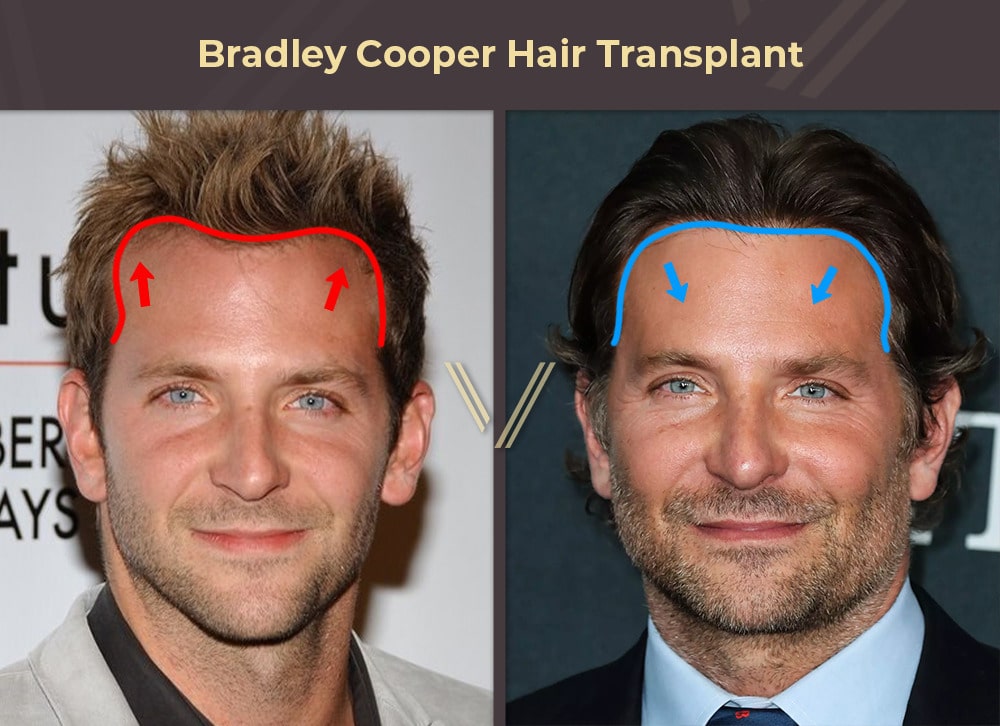 Bradley Cooper
Just as darling Bradley had his temples opening quite visibly, they have magically made a comeback. If you're wondering how this happened, look no further than a hair transplant. His temple hair may have been repaired, and the corners of his frontal hairline have been rebuilt without a perceptible lowering.
Experts estimate that he may have gotten around 4000 hair grafts transplanted in total. Looking better than ever, he enjoys his hair on the longer side which is a smart move making the hair transplant procedure less obvious. Who would have thought that Bradley would join the celebrities with hair transplants?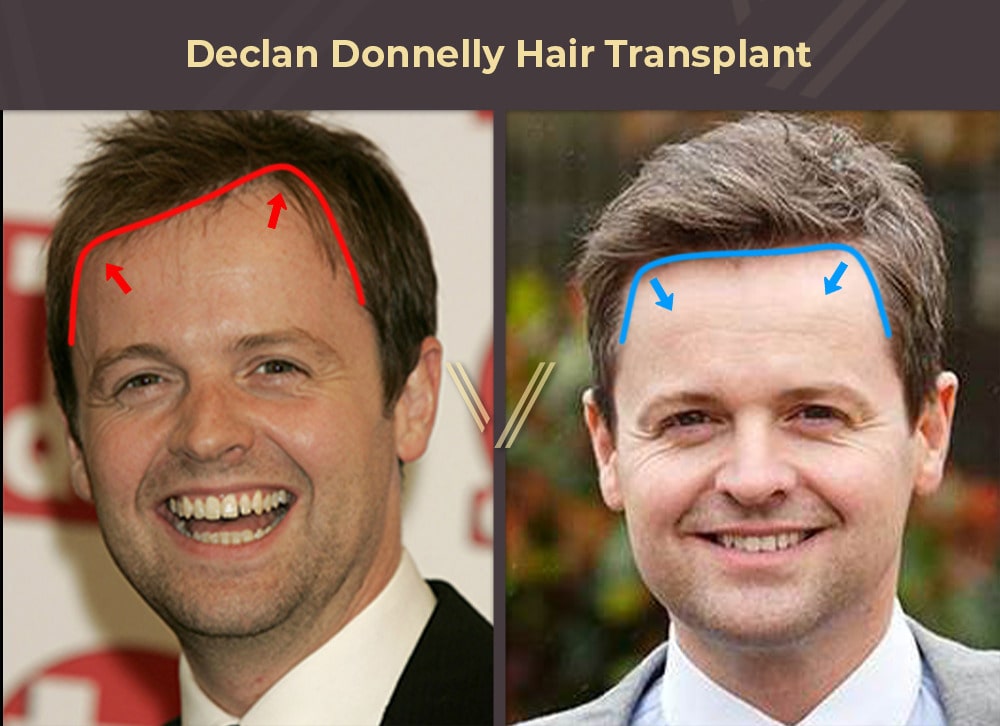 Declan Donnelly
Has Declan Donnelly got a hair transplant? The British TV presenter and actor Declan Donnelly is a highly successful and respected figure in the world of entertainment, and his talent and charisma have made him a beloved figure to audiences around the world.
Losing his hair density and hairline due to aging, many wonder if he ever considered opting for a hair transplant. This was specifically the case when he suddenly appeared with thicker and darker-looking hair a few years ago. By the looks of it, he doesn't seem to have undergone a hair transplant just yet. Relieving to know that he cares about his hair as much as we do though!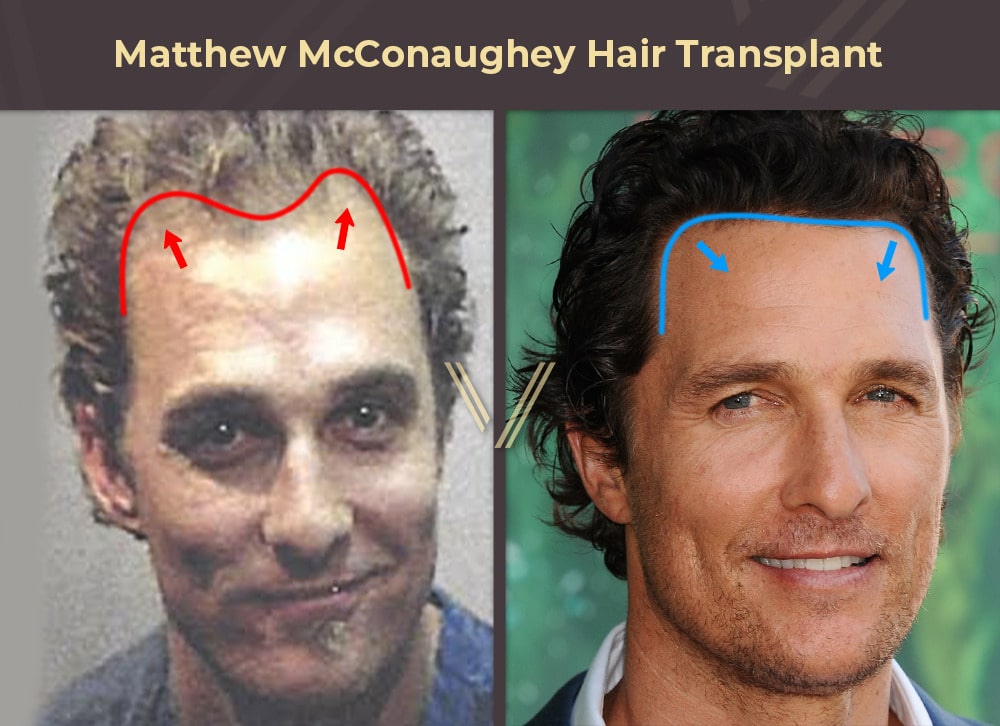 Matthew McConaughey
Did Matthew McConaughey get a hair transplant? There have been long-standing rumors that actor Matthew McConaughey has undergone a hair transplant, but he denied each and every one of them…
While McConaughey pushes the rumors away, the potential changes in his hairline have sparked curiosity and intrigue. Until the actor chooses to shed light on the matter, the truth behind his luscious locks remains a mystery. In any case, it would be nice to know what hair products or treatments he uses to restore his hair or if he has actually joined actors with hair transplants…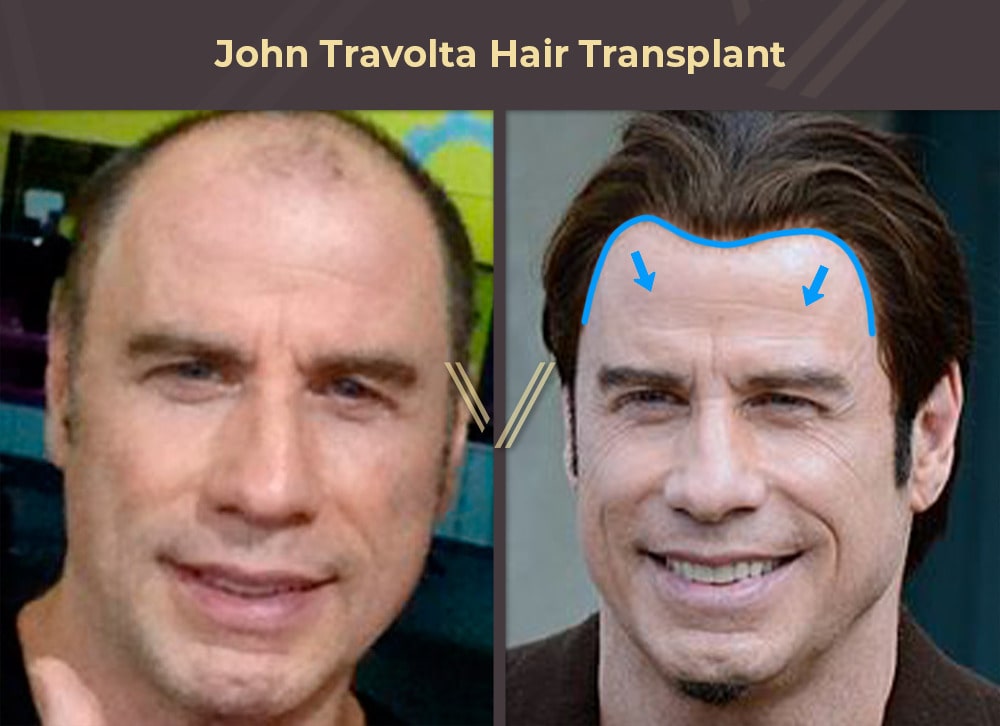 John Travolta
Travolta has been open about his struggles with hair loss and his efforts to restore his hair. It is believed that he has tried a number of different hair loss treatments including medication and hair transplant surgeries.
Evidenced in photos shot throughout the years available everywhere, superstar John Travolta regained his hairline after being practically bald. According to our research, Travolta had hair transplant surgery in 2016, with amazing results and just about on time. He's an icon who's still looking fab!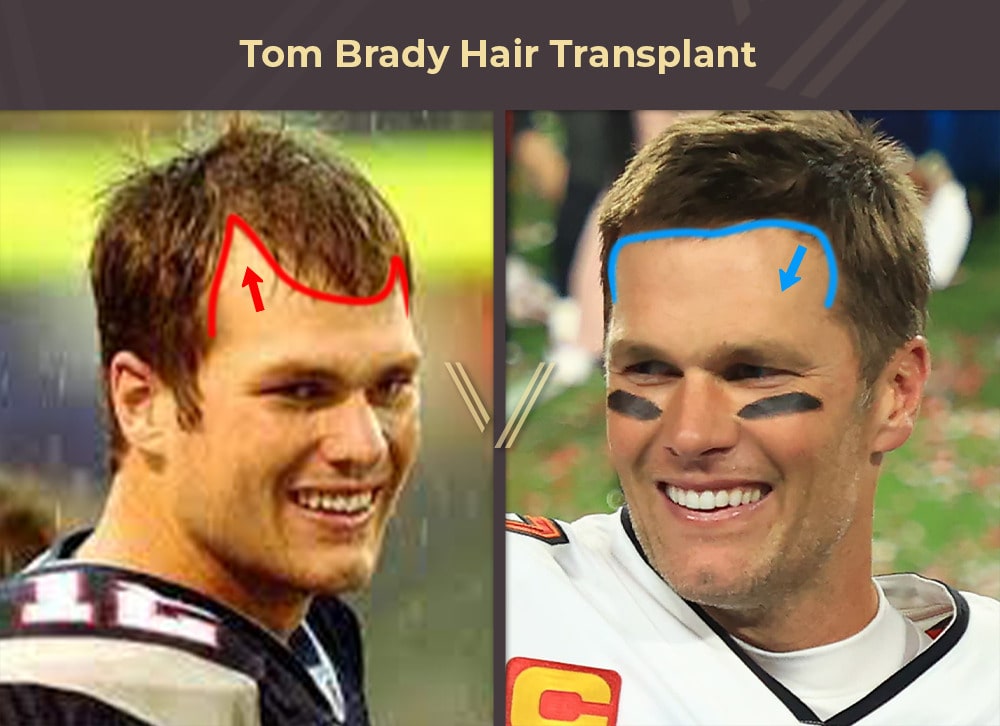 Tom Brady
Tom Brady is a tenacious competitor who has helped lead his team to victory on numerous occasions. In addition to his on-field success, he takes care of his appearance and was to do something about it when he started noticing his receding temples.
Brady's beautifully repaired hairline has frequently been attributed to a hair transplant operation. Since the alleged hair transplant, his hairline seems far more alive and rich. His exceptional talent and leadership skills have earned him a reputation as one of the greatest quarterbacks in NFL history and he's an inspiration to many in and outside of the field.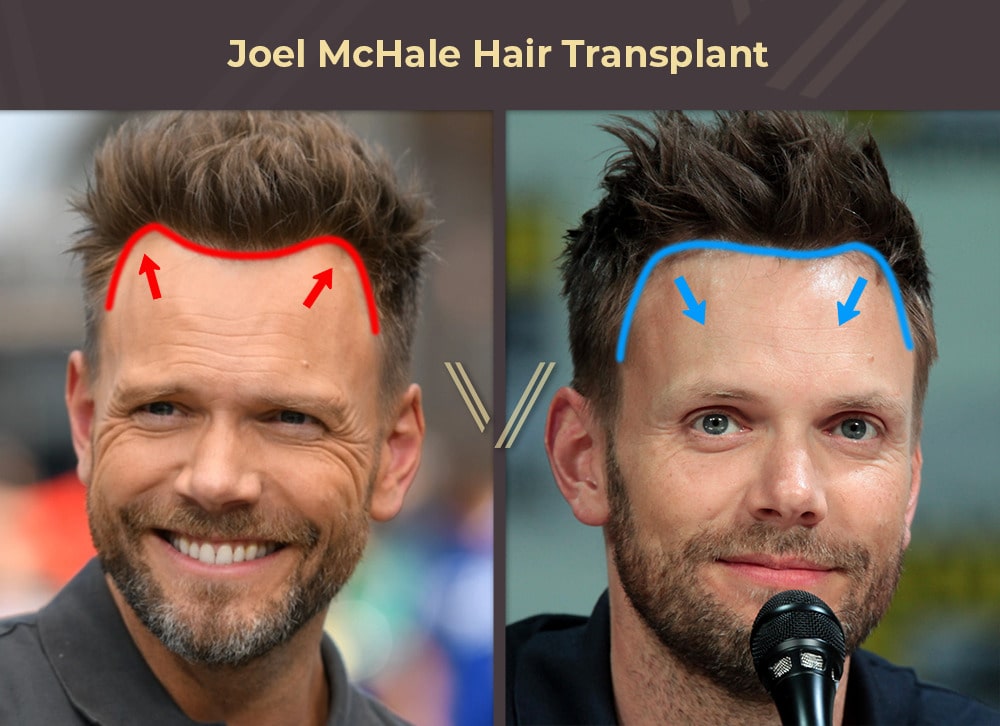 Joel McHale
The Rome-born actor and TV personality is another celebrity who had a confirmed hair transplant procedure. McHale revealed on a podcast episode with Justin Long that he had undergone three hair transplants.
McHale's hair transplant is said to have been performed using the FUE method, which has a quicker recovery time. McHale eventually disclosed this truth that we already knew about amid years of avoiding the topic with all sorts of manoeuvres.
Salman Khan
Khan has been open about having had hair transplants, stating that he decided to undergo the procedures in order to improve his appearance and boost his confidence. He has also stated that both procedures were successful and he is happy with the final result.
His initial hair transplant was performed in 2003, and his most recent hair transplant was reportedly done in 2016. His appearance has changed over the years as a result of these touches, rocking exceptional results.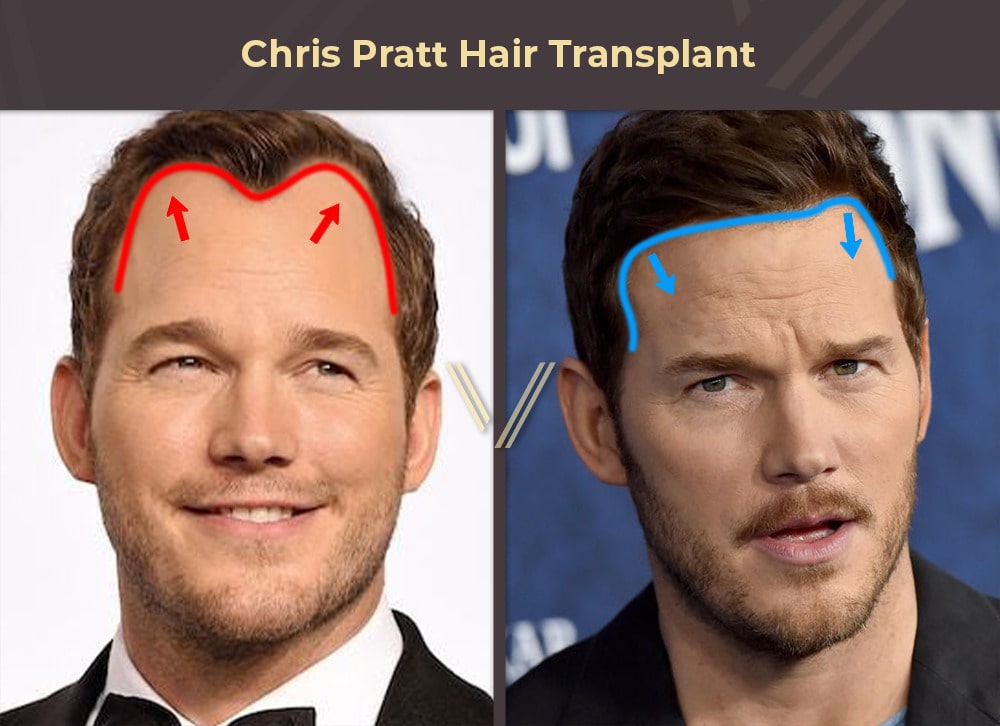 Chris Pratt
Pratt's on-screen versatility and affable demeanor have earned him a reputation as a leading man in Hollywood. In line with his acting career, he took the right measure and had a successful hair transplant as soon as he realized the first hints of hair loss.
Ageless so far, his fans owe his immortal appearance to his healthy, self-care routine along with small cosmetic touches here and there, when necessary. What is an actor's looks worth if he doesn't take care of it to look his best right?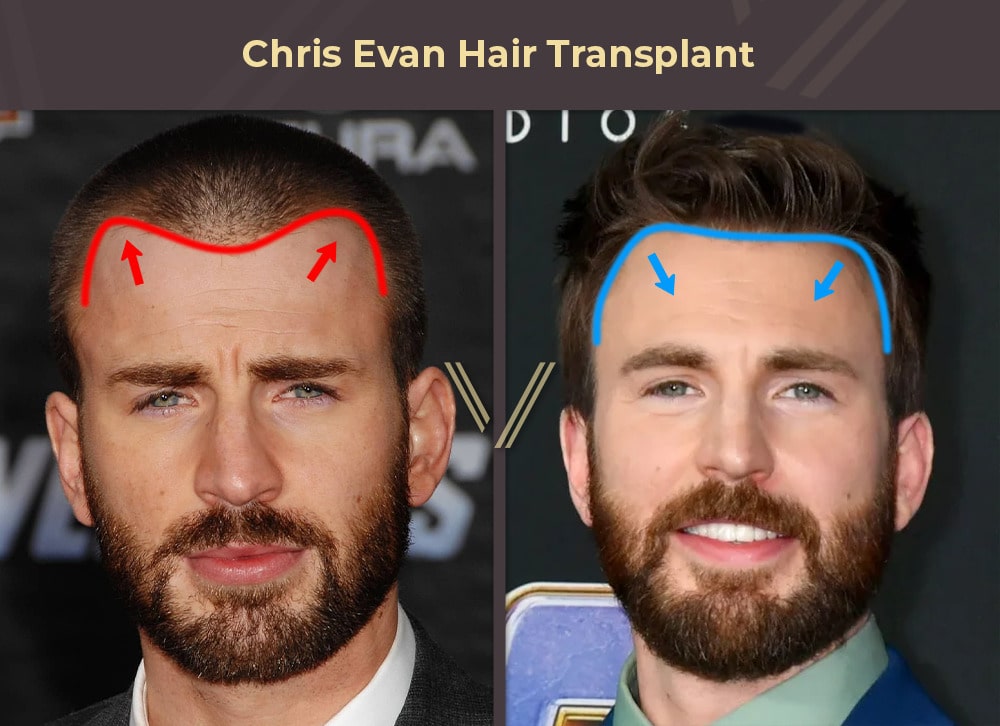 Chris Evans
A former model, Captain America star has been a little worried about losing some of his charms as his hair started thinning out quite early into the game. Subtle, successful but still noticeable, his hair transplant resulted in a marvel.
As long as the hairline put in place during a hair transplant suits the natural looks of the person, there's nothing wrong with denser, more noticeable hair transplants. The point of a hair transplant isn't necessarily to be invisible but to get you the hair you desire.