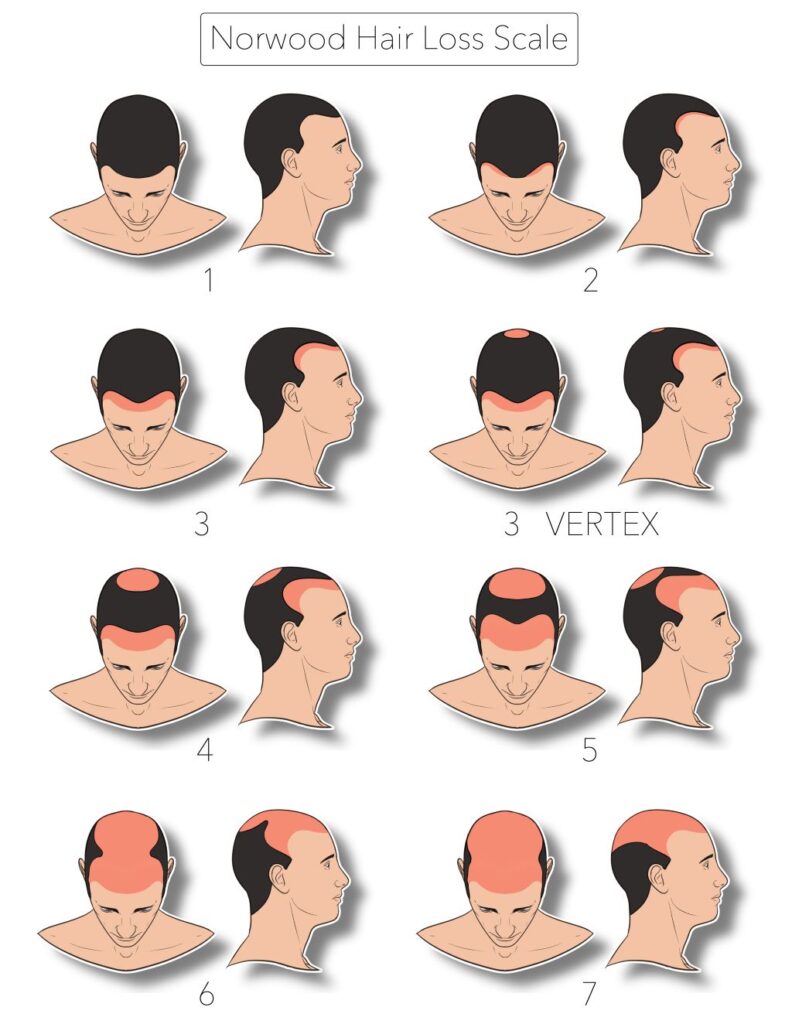 Navigating how many hair grafts you would need for a hair transplant is challenging. It is most likely that you have a pretty good idea about the end goal of your hair transplant but knowing what can get you there is another thing. To have a good idea about the number of hair grafts you would need, you first need to understand at what stage of hair loss you are on and what exactly is a hair graft.
The progress of hair loss is as important as the quality of hair grafts. This is because the thinned or balding area that needs covering will determine the number of required hair follicles to create the desired hair density. As a rule of thumb, the wider the transplant area, the more hair grafts you will need. The progress of hair loss can easily be determined by using the Norwood hair loss classification.
Norwood hair loss classification
The Norwood hair loss classification system is a useful source that guides clinicians and patients through the stages of male pattern baldness. Because people who are suffering from male pattern baldness go through similar stages of hair loss, you can easily pinpoint at which stage you are and what possibly awaits you in the future. Our medical team can make an accurate diagnosis and create a suitable treatment pathway using this classification system.
How many grafts do I need for a full head of hair?
The size of the thinned or balding area is different at each of the 7 stages in the Norwood scale. Hence, these stages can indicate how many hair grafts you will need to achieve a full head of hair.
How much does a hair transplant surgery cost?
The cost of hair transplant depends on multiple variables such as the number of grafts needed, technique used, experience of medical team, whether it's shaved or unshaven etc. However, the most important indicator is the level of baldness that is measured by the Norwood scale. You can see the approximate hair transplant costs in Turkey per Norwood hair loss level below: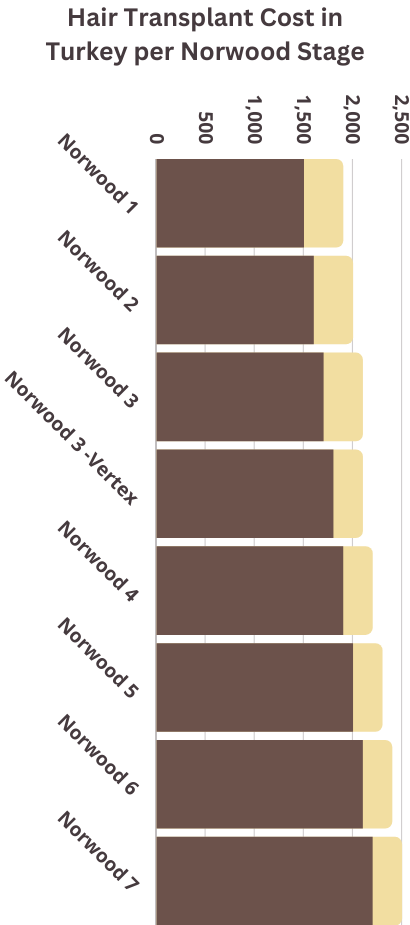 How many grafts do I need for the crown?
Some men might be more bothered by the thinned or balding hair at the crown area as opposed to hair loss around the frontal hairline. In this case, the number of hair grafts needed for the crown can vary between 500 and 2500 depending on the size of the area.
How many grafts do I need for the hairline?
Recovering from a receding hairline can make a great impact on your overall appearance. Similar to the vertex area, the number of required grafts for the hairline can change between 1000 to 3000 hair grafts.
How much hair is in 1 graft?
The number of hair follicles in a hair graft determines the graft quality and hair density. Usually, 1 graft contains 2 to 5 hairs. The number of hair follicles in a hair graft determined the hair quality and density. This is why the condition of the hair grafts is crucial for a hair transplant operation.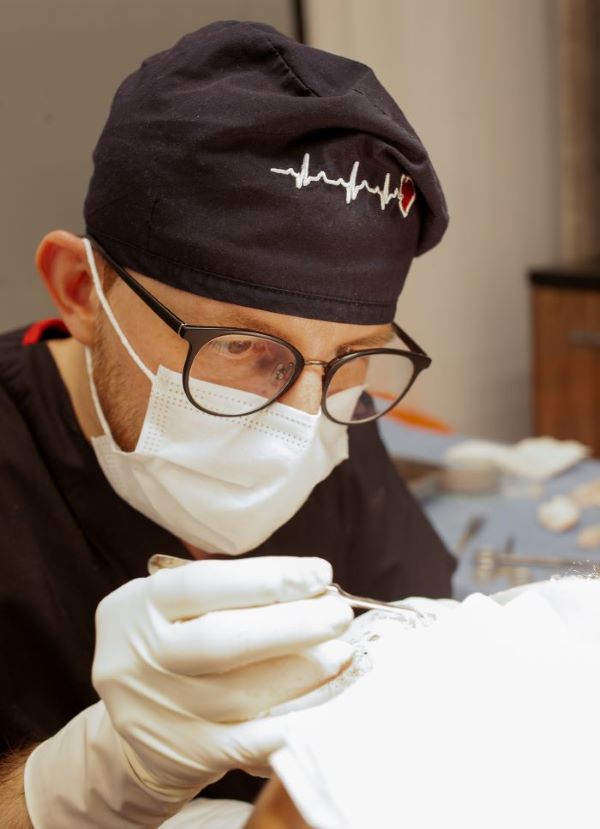 What are the treatment options other than hair transplant?
Alternative treatment options for hair loss can be benficil, especially at the early stages of hair loss. The most popular treatment options among these alternatives are the hair loss medications and platelet-rich plasma (PRP) treatment.
Hair Loss Medications
Some medications such as minoxidil and finasteride can help improve hair growth and reduce hair loss.
Minoxidil works by shortening the resting phase of your hair growth cycle and moving your hairs into the active growth phase by improving the blood flow to the hair follicles.
Finasteride inhibits the conversion of testosterone to dihydrotestosterone (DHT) which is the hormone that can cause male pattern baldness.
If you are hesitant about hair transplant surgery you can opt for these medications or other alternatives.
PRP Hair Treatment
The PRP hair treatment uses a person's own blood plasma to stimulate hair growth. The plasma is a great agent to nourish the hair follicles and improve hair quality.
Because PRP treatment is an effective non-surgical option, many people prefer this option before and after getting a hair transplant.
PRP is not a one-time treatment if you are willing to slow down your hair loss. That's why the sessions needs to be done on an ongoing basis to achieve significant results.
Don't wait any longer, contact us today to schedule a consultation and take the first step towards a fuller head of hair with a younger look of yourself! Feel free to take a look into hair transplant growth timeline to see what future beholds! You can either reach us on our contact form or click on the WhatsApp icon above for instant communication. Our team of experts will be more than happy to answer any questions you may have!