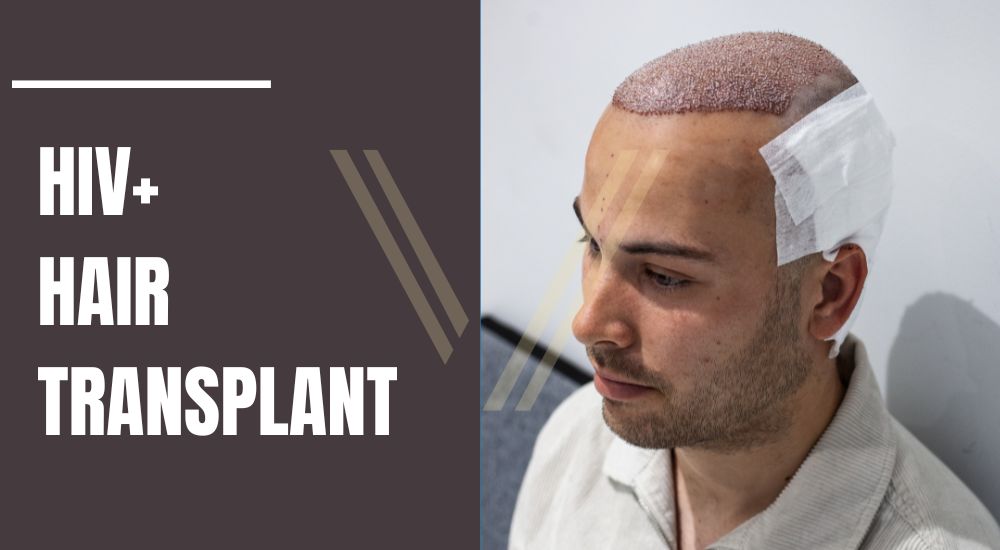 As we age our hair might lose its density and health due to various reasons. Even though it is quite a common condition, people who suffer from hair loss usually feel insecure about their appearance and wish for a way back to thick and voluminous hair. However, not everyone is eligible for getting a hair transplant surgery due to various reasons.
Thanks to the technological and technical developments in hair transplant operations, it is now possible to achieve that healthy hair even though you are HIV-positive.
Today, HIV-positive hair transplants can be conducted with utmost care in Istanbul, Turkey that provides long-lasting satisfactory results.
Let's have a look at the eligiblity, procedure, prices and other frequently asked questions about HIV hair transplants.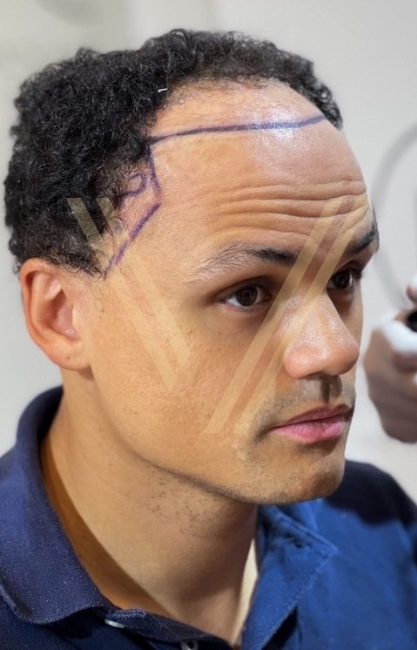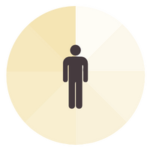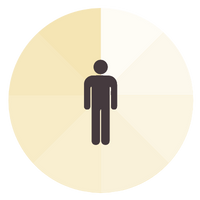 One Patient at a Time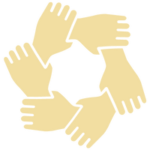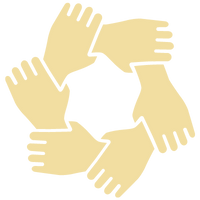 In-house Team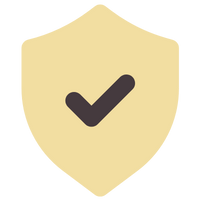 No Hidden Fees
Is it common for a HIV-positive person to experience hair loss?
HIV virus does not trigger hair loss by itself. However, the medications used against the virus may trigger extra hair loss. Also the initial realization of living with HIV can bring about significant stress and anxiety. This added emotional burden can contribute to hair loss, in addition to any hair loss triggered by medications used in antiretroviral therapy. These factors increase the number of patients looking for HIV-positive hair restoration methods.
Can an HIV-positive patient get a hair transplant?
The most important factor to be considered for an HIV-positive hair transplant is the strength of the immune system. HIV-positive people can get a hair transplant if their immune system is strong enough. If so, they can go through a hair transplant provided that they have sufficient number of donor grafts.
HIV can be categorised as detectable and undetectable. Depending on whether you have detectable or undetectable HIV, your surgeon can have a rough idea about the strength of your immune system.
For undetectable HIV patients
People with undetectable HIV have a low virus load which means that they are less affected by the virus. Undetectable HIV patients have lower risks and might be more likely to be eligible for a hair transplant operation.
Usually, the virus load is decreased through HIV treatments. If you are an undetectable HIV patient, your surgeon might give you a green light after conducting the necessary tests.
For detectable HIV patients
Detectable HIV patients usually carry more risks as their high viral load may make their the immune system is weaker. This is why a hair transplant is not medically advisable for detectable HIV patients.
However, after a successful HIV treatment, the viral load can be decreased to make a detectable HIV patient suitable for a hair transplant operation.
How many hair grafts is needed for HIV hair transplant?
The size of the thinned or balding area is different at each of the 7 stages in the Norwood scale. However, patients tend to have a hair transplant operation starting from the Norwood stage 3. You can see the stages from 3 – 6 below.
HIV-positive hair transplant procedure
The HIV-positive hair transplant procedure is not any different or carry any more risks in terms of the hair transplant method but it is done under detailed safety precautions to avoid any infection risks. These precautions are designed to protect you and the health of Vantage Medical Team. HIV-positive patients can go through either Follicular Unit Extraction (FUE) or Direct Hair Transplant (DHI) hair transplant operations. These two hair transplant techniques are the most commonly preferred hair transplant methods, today. Both methods provide successful and long-lasting results.
Both FUE and DHI methods involve extracting healthy hair grafts individually from the donor area. However, the FUE method requires creating microchannels at the transplant area before planting the hair grafts. On the other hand, the DHI method combines these two steps into one thanks to a tool called the Choi pen.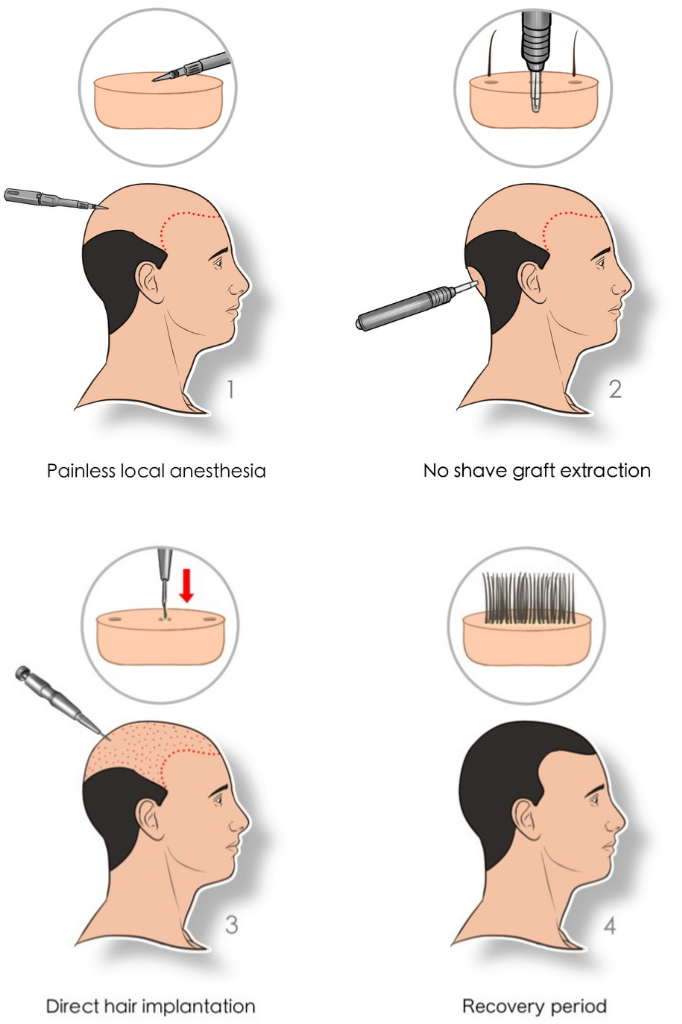 At the Norwood Stage 3, 2500 – 3000 hair grafts are usually sufficient to achieve a dense natural hairline.
Are there any extra steps for the procedure?
No, you don't need to worry, but there are some important precautions that need to be taken into account. At Vantage Clinic, your health and safety are our top priority. While we maintain the highest standards of care to keep both you and our medical team safe, it's essential that HIV-positive patients have a strong immune system in order to undergo surgery safely.
If you're newly diagnosed with the virus and have concerns about your eligibility for surgery, don't hesitate to reach out to our team of experts for free consultation and guidance via the button below. Depending on your answers, setting up a preparation period to nourish your immune system before your operation may be the safest and least time-consuming option for you.
Are there any extra precautions used?
One of the main precautions is to ensure that the hair transplant procedure is performed in a sterile environment. The medical team must adhere to strict infection control measures to prevent any potential exposure to pathogens that could cause harm to the patient. Additionally, the patient's HIV status is taken into account when selecting the appropriate anesthesia and pain management techniques.
To lower the bleeding and fasten the recovery, our medical team makes sure the incisions are tinier than usual. Hair follicles taken from your donor area are not stored and transplanted immediately to reduce the risk. This practice also keeps the folliciles from getting harmed and increases the quality of the transplant. In case you want to learn more about the details, the button awaits you below for you to get in touch with our team of experts.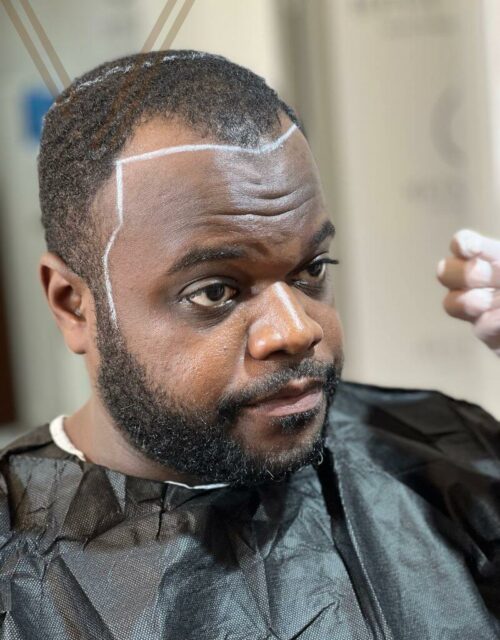 Do I get tested for HIV before a hair transplant?
Yes, before a hair transplant operation each person goes through a detailed blood test to assess their overall health and determine whether or not they are suitable for the hair transplant operation. These tests require you to go through an HIV test as well.
Should I tell that I am HIV-positive?
Yes, you should definitely tell that you are HIV-positive. This helps you build the right transparent relationship with your clinic and surgeon. Even if you don't tell that you are an HIV patient, the virus load will be detected during the detailed tests before your operation. If you tell beforehand, this gives you the opportunity to design your hair transplant operation accordingly without losing any time.
HIV-positive hair transplant prices in Turkey
The HIV-positive hair transplant is a special operation that requires utmost attention to safety and detail. This is why HIV-positive hair transplant operations are usually pricier than normal hair transplant operations however still Turkey is the perfect location for you. The HIV-positive hair transplant prices in Turkey range between $3,000 and $5,000.
Can an HIV-positive patient achieve good hair transplant results?
As long as your immune system is strong enough to be eligible for a hair transplant operation, HIV should not interfere with the results of your hair transplant operation. You might have to pay extra attention to your health after the operation and be on top of your aftercare routine to achieve the best results you can.
Frequently asked questions
Can I travel to Turkey with HIV?
Yes, you can travel to Turkey with HIV. There are no restrictions for HIV-positive patients when entering Turkey. You don't need to provide any test results or medical certificates.
Are there any restrictions for HIV-positive patients in Turkey?
No, there are no restrictions for HIV-positive patients in Turkey. You can travel and get your hair transplant operation in Turkey without any concern. If you have any concerns about the subject, you can reach out to us with any specific questions you might have about HIV-positive hair transplants.
Can I get a hair transplant in Turkey if I have hepatitis C as well?
Hepatitis C (HCV) patients can also be suitable candidates for hair transplant operations. If you have HIV and/or HCV, please consult with your clinic to learn whether or not you are a suitable candidate.
Why wait any longer? If you desire higher confidence with a youthful look, Vantage Clinic offers everything you are looking for! Here, we take utmost care of our patients and do not refrain from any precautions to keep our patients with contagious diseases safe. Feel free to get in touch with us via our contact form or WhatsApp button below, we will be waiting to make mirrors friendlier!