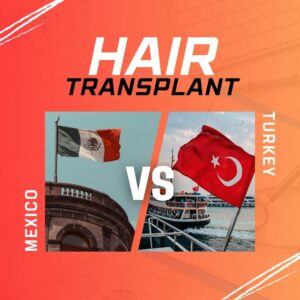 Hola, and Viva la Hairvolucion! Are you ready to embark on a hair transplant fiesta that will transform your look and ignite your wanderlust? In this fact based blog post, we'll take you on a journey to two vibrant destinations for hair transplants: Mexico and Turkey. Get ready to salsa dance into a world of hair restoration as we compare the charm of Mexico and the successful result statistics of Turkey. So, prepare your bets as we compare tacos vs kebabs!
Hair Transplant in Mexico – South of the Border Experience
Colorful streets, taco stands, mariachi music filling the air, and a margarita in hand… Welcome to Mexico, where hair transplants seamlessly blend with fiesta vibes and with the adrenaline of the possibility to encounter one of the cartels (just joking!). This vibrant country offers a delightful combination of great medical facilities and a rich cultural heritage.
When it comes to hair transplants, Mexico entered the race a little late but the country boasts experienced surgeons who excel in the latest hair restoration techniques. From follicular unit transplantation (FUT) to follicular unit extraction (FUE), you can expect stellar results that will make your hair shout "¡arriba!".
But Mexico has more to offer than just hair transplants. Before or after your procedure, you can choose to immerse yourself in the rich culture, savor mouthwatering cuisine, and explore ancient Mayan ruins. It may turn into a hair restoration experience that combines rejuvenation with an unforgettable vacation if you choose to.
Hair Transplant in Turkey – Experience the Magic of Turkish Hospitality
Hold on to your kebab because Turkey is about to whisk you away on a magical carpet ride of hair restoration. Istanbul, the bustling crossroads of Europe and Asia (the only city in the world that expands on two continents), has become a global hotspot for medical tourism, with hair transplants leading the charge.
When it comes to affordability, Turkey steals the show. The cost of hair transplant procedures in Turkey is significantly lower compared to many other countries, making it a tempting option for all. In fact, a growing number of influencers and celebrities alike silently frequent the streets of this magnificent city to get their hair transplant done. They aren't necessarily interested in the convenient pricing but more so in clinics that boast an abundance of experience. With a high volume of hair transplants performed each year, skilled surgeons in Turkey have polished their techniques to perfection while training an army of younger surgeons as part of their legacy.
Moreover, Turkey has been extremely successful in combining the country's long standing expertise in hospitality with medical tourism. Think; all inclusive packages that offer luxury accommodation, VIP transfers, and a personal interpreter/assistant assigned to you. From a cultural aspect, Turkish people want you to leave with a memorable experience, and your clinic will be following up on your hair growth for months to come because they take pride in their work and its successful hair transplant results.
Turkey vs. Mexico: Let the Duel Begin!
Alright, amigos and amigas, it's time for the ultimate hair transplant breakdown. Which country should you choose for your hair fiesta? Let's break it down and see how these two contenders stack up against each other.
Benefits of Getting a Hair Transplant in Mexico
Cultural Delights
Mexico's rich cultural heritage adds an extra touch of magic to your hair transplant journey. Immerse yourself in vibrant traditions, explore ancient ruins, and indulge in tantalizing cuisine. All that, if you manage to enter the country. Read below to grasp what we are talking about.
Experienced Surgeons and Fancy Facilities
Mexican surgeons have the skills and expertise to deliver exceptional results. You can trust that you're in capable hands as they work their magic on your scalp. Some of the popular surgeons in Mexico are trained in the US or Canada and opened their clinics in Mexico catering to high-net worth individuals.
Important Note
Due to rising numbers of asylum seekers crossing over the border of Mexico to the US, Mexico requires a valid US visa for visitors from most countries. Even if your passport doesn't require a visa to enter Mexico, it is common to be denied entry to Mexico for those who do not have a valid US visa on their passport, or the right to enter the US. Lately, there have been cases where the obvious tourists traveling with small children and lots of sunblock with a resort reservation in Cancun are being denied entry. This is an unpleasant and off-putting fact you should know about before flying over all the way to sip your margarita.
Benefits of Getting a Hair Transplant in Turkey
Affordability
Turkey takes the crown when it comes to high-performing, cost-effective hair transplant procedures. You can achieve fantastic results and have room to splash out on shopping and exploring Turkish cuisine with your savings. Flights to Istanbul are also ultra-affordable from most parts of the world. Turkish Airlines offers direct flights to Istanbul from 340 destinations in 129 countries!
Vast Experience
Turkish clinics perform a staggering number of hair transplants each year, giving their surgeons unparalleled expertise. You can rest assured knowing you're in the hands of seasoned professionals when you choose a reputable clinic.
Luxury and comfort for all
In Turkey, you don't have to be rich to experience a top-class travel experience. This is one of the reasons why the country is the most preferred international hair transplant destination. Hair transplant clinics are able to get amazing deals for you to stay at an ultra-luxury hotel, which costs double the price if you booked alone. For patients traveling from abroad, every detail is taken care of so that you can rest, rejuvenate and enjoy.
Is Mexico or Turkey the Best Hair Transplant Destination?
The million-peso question remains: Which country should you choose for your hair transplant party? Well, there's no one-size-fits-all answer. The decision ultimately depends on your preferences, budget, and sense of adventure.
If affordability, expertise, and a proven track record are your top priorities, Turkey steals the show. With its budget-friendly prices and vast experience, you can achieve exceptional results while enjoying the cultural wonders of Istanbul and immersing yourself in the gourmet scene.
The hair transplant procedure itself in Mexico on the other hand is certainly more cost-effective than the US and Canada. Just make sure you count in the cost of the return flight and the fact that tourist-safe areas in the country aren't all that cheap.
Whether you choose the colorful streets of Mexico or the cultural flair of Turkey, a hair transplant is your ticket to a sensational transformation. Remember to do your research, consult with reputable professionals, and set realistic expectations for your hair restoration journey. A hair transplant is a God-given opportunity to bring back our youthful days, and confidence while adding new adventures!
Comparing Hair Transplants: Turkey vs. Other Countries